After Trump has blessed Israel so much, why might God let him lose?
Jerusalem Post analysis quotes various Evangelicals, including ALL ISRAEL NEWS founder Joel C. Rosenberg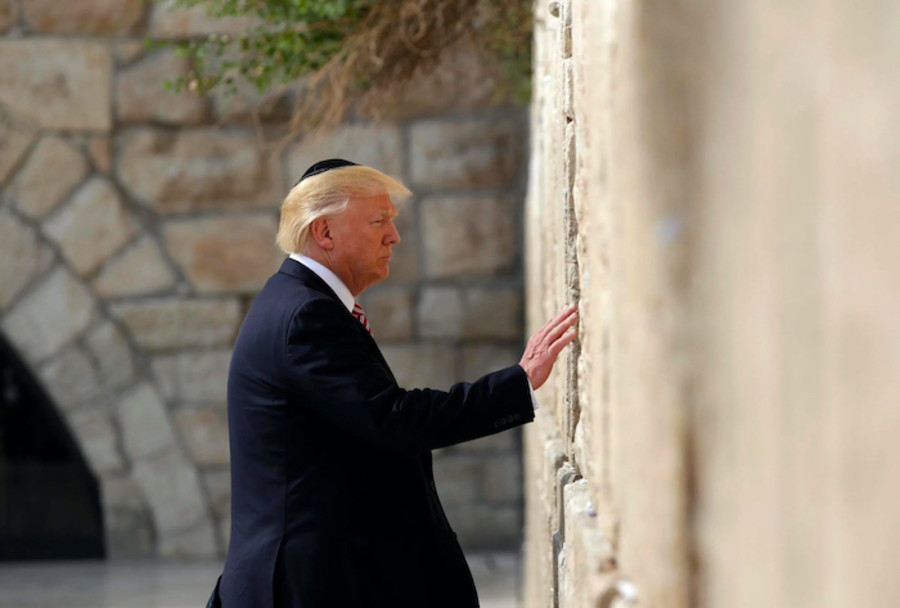 Donald Trump praying at the Western Wall in Jerusalem on April 13, 2018 (credits: Shutterstock)
JERUSALEM – The Jerusalem Post published an interesting story Monday morning.
Did Trump's gamble on God not work? - Analysis read the headline.
"Has God cursed Donald Trump, the man who claimed to bless Israel more than anyone else?" asked News Editor Maayan Hoffman in a news analysis.
"Just days before the election, Trump sought to reawaken and harness the love of his Evangelical Christian constituency by removing political limitations on research cooperation between the United States and Israel and allowing Americans born in Jerusalem to choose to put Israel on their passports," Hoffman wrote. "He brokered three normalization agreements in just over a month between Israel and Arab countries."
Yet, "it seems contrary to the biblical verse, 'I will bless those who bless you, and I will curse him who curses you' (Genesis 12:3)," Hoffman wrote, that "God will not put the president back into the White House."
Hoffman quoted several Evangelicals in her story, even citing a self-proclaimed "prophet" who had insisted before the election that, "The rocks are about to move and Trump will be president no matter what you hear. He will sit in office for four more years and God will have His way in this country."
To be sure, Trump has not conceded the race and his team insists that he still has a path to victory. They note that in November 2000, the media were convinced that Al Gore was going to be the next American president, when in fact George W. Bush ultimately won that race, however narrowly.
Republicans leaders argue that vote counting is still underway in several key U.S. battleground states.
Recounts are also taking place, and lawsuits have been filed by Republicans alleging illegal vote counting irregularities, all of which will take time to resolve.
That said, Hoffman's article is based on the premise that most analysts believe is probable, that the die is cast and Biden will be president.
So, how is that possible? she asks. Why didn't God reward Trump's determination to bless Israel so much?
One of the Evangelicals she interviewed was Joel C. Rosenberg, founder and editor-in-Chief of ALL ISRAEL NEWS.
"I absolutely believe in the principle laid out in Genesis chapter 12," Rosenberg told the Post. "Yet, it is important to remember that God has multiple objectives that are going on simultaneously….Only He knows which ones He is going to elevate at a single moment."
Rosenberg cited the Book of Job, Hoffman noted, in which the main character is described as a righteous and upright man, yet God afflicts him with pain and suffering.
"That suffering was also part of God's objective: to show Job how much he was loved by God and that he could trust God even when things were very difficult and going another way that he did not want," Rosenberg said. "God was still sovereign and trustworthy. God is never wrong. People can be wrong."
Later in the article, Hoffman cited Daniel 2:21, "God changes times and seasons; he deposes kings and raises up others."
She quoted an Evangelical pastor in Texas who said that God is bigger than any political race.
"He is never surprised by the results from a race," the pastor said. "He raises up leaders in His time, according to His plan."
Rosenberg, Hoffman wrote, also said that sometimes "a terrible president might be God's plan."
In the Book of Exodus, he said, God calls Pharoah his "servant."
"According to Rosenberg, God was using Pharoah to prove his power to the nation of Israel and to show them that He loved and cared for them," she wrote. "Likewise, God raised up King Nebuchadnezzar, who God also describes as 'my servant' and then used the king to destroy Jerusalem and send the Jewish people into exile – 'a punishment,' according to Rosenberg, which was for the Jewish people's own good."
"God can use a range of leaders to accomplish some good things and some not so good things," Rosenberg said.
To read the full story in the Jerusalem Post, please click here.
Editors note: Updated 18 November, 2020:
The All Israel News Staff is a team of journalists in Israel.
A message from All Israel News
Help us educate Christians on a daily basis about what is happening in Israel & the Middle East and why it matters.
For as little as $5, you can support ALL ISRAEL NEWS, a non-profit media organization that is supported by readers like you.
Donate to ALL ISRAEL NEWS
Current Top Stories
Comments