TOURISM SOS: Unemployed for 18 months, many Israeli tour guides on anti-depressants, at least two suicides
Dire situation for tourism industry; Even Christian tourists admit they feel betrayed, unwanted in Israel; Tour guides protesting as their unemployment is cut off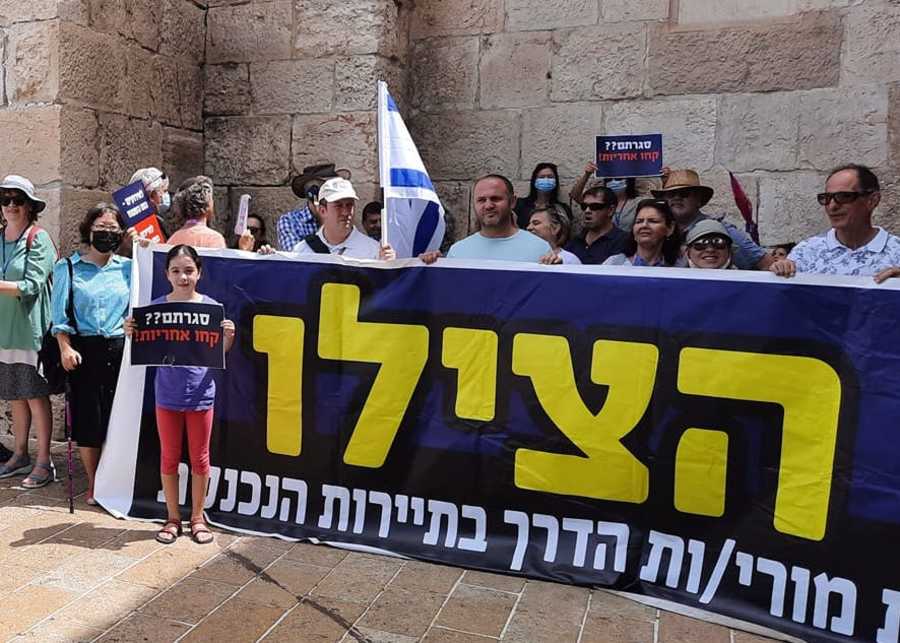 "Save us!" reads a sign from the Incoming Tour Guide Association while the girl on the left holds a sign that says, "You closed us – take responsibility!" (Photo: courtesy)
The last of the tourists in Israel are gone and their return is nowhere in sight.
This has created a financial and emotional disaster for the approximately 3,000 to 3,500 guides for incoming tourists to the Holy Land who have no work and, increasingly, no hope. These 18 months since the onset of the pandemic have left guides in desperate situations. Two have committed suicide and several are on anti-depressants, while some are moving to more affordable areas of Israel or even overseas.
What's more, Christians – who account for Israel's biggest supporters and largest touring sector – have said they feel unwanted in Israel and don't understand why, even with the stringent protocol to get into Israel, they are not being welcomed back.
Yoni Shapira, chairman of the Incoming Tour Guide Association of Israel, spoke with ALL ISRAEL NEWS about the dire state of tourism in Israel, the guides and the relations with Christians who want to return.
"This is a punishment to the tourists – Christian and Jewish tourists. The fact that they closed the gates for tourists who they told us we could bring in, and then closed it again – they have shut the gates right in front of our noses," he said.
Israel's borders have essentially been closed since March 2020. The return of tourism was brief, a pilot program that welcomed around 10,000 tourists back to Israel from the end of May until mid-August when the government ordered a seven-day quarantine for travelers arriving from nearly all countries – Israelis and foreigners alike.
This sudden requirement forced many tour groups to cancel trips all the way through September and some in October as well.
"The uncertainty is what is killing us," Shapira said. "They are bringing us back to a level of uncertainty. Tell us that you're closing for the next six months, a year, tell us that we have no work. But give us a date, don't say, 'Yea tourists can come,' and then close it down."
"They said as long as tourists are vaccinated they can come in. And now tourists are vaccinated, but they still can't come in."
In a meeting with the public health director, tour guide representatives painted the distressing situation their colleagues are dealing with.
"As we introduced our issues we said, 'We understand that you are responsible for the health of people regarding the coronavirus, but you are also responsible for the mental health and depression of the people in the country,'" Shapira said.
After he left the meeting, Shapira got a message that another tour guide had committed suicide.
"There were other factors, but this was the straw that broke the camel's back," he said.
The situation has gotten worse as tour guides were cut off from unemployment this summer. Instead of continued compensation, the government offered tour guides minimum-wage jobs as "corona inspectors" who police public facilities looking for violators of indoor mask mandates. Another suggestion that guides considered "out of touch" included retraining to become teachers or camp counselors.
"The biggest issue is not just that we don't have work, it's that the government is stopping all compensation. They told us to get a different job," said Darya Short, a tour guide who had only just gotten started after completing the grueling two-year guiding course.
"To do this tour guide course means you have to be committed to the country. Everything we've been doing, for those guiding for decades, is all about commitment to the country," she told us. "We are the biggest ambassadors for the country."
Yossi Fatael, CEO at Israel Incoming Tour Operators Association, said that a bureaucratic maze and unhelpful public servants have rendered the situation hopeless.
"We all hoped that the pilot for bringing in tour groups would succeed in bringing logic to the minds of policymakers," he said, noting that the pilot was not only halted, but the system stopped "receiving future incoming tourism requests."
"Our hope for a gradual return to activity in the last quarter of the year has been burst and is on its way to the next world for burial," Fatael wrote.
Tour guides have staged ongoing protests since July, gathering at Ben-Gurion International Airport, the Knesset and other government buildings, the Old City of Jerusalem and outside the homes of various ministers from the head of Tourism to the prime minister where they bring coffee and invite the leaders to converse with them about the situation.
This week, a group of tour guides are making their way by foot from Caesarea to Jerusalem carrying placards and stopping for peaceful demonstrations at key sites. They hope to block Highway 1 on Thursday at the entrance to Jerusalem and get some attention.
However, Shapira admits, their lobby is not influential enough to make a difference and the government doesn't seem interested in helping.
"We are not powerful enough, we are not violent enough and we are not political enough," Shapira said.
He had a message for Christians and Jews in the United States: "Tell Prime Minister Naftali Bennett while he's in the U.S., 'We want to come back with you.'"
Shapira said Christians should send letters pressuring the government to let them in. Concerned Christians have already reached out to Shapira and are trying to set up a charity to support families in the industry who can't make ends meet.
The government should shift its focus, Shapira said.
"Control the Israeli crowds. Control the crowds going to Uman (for an Orthodox gathering in Ukraine). Control those coming back who won't even go into quarantine," Shapira said.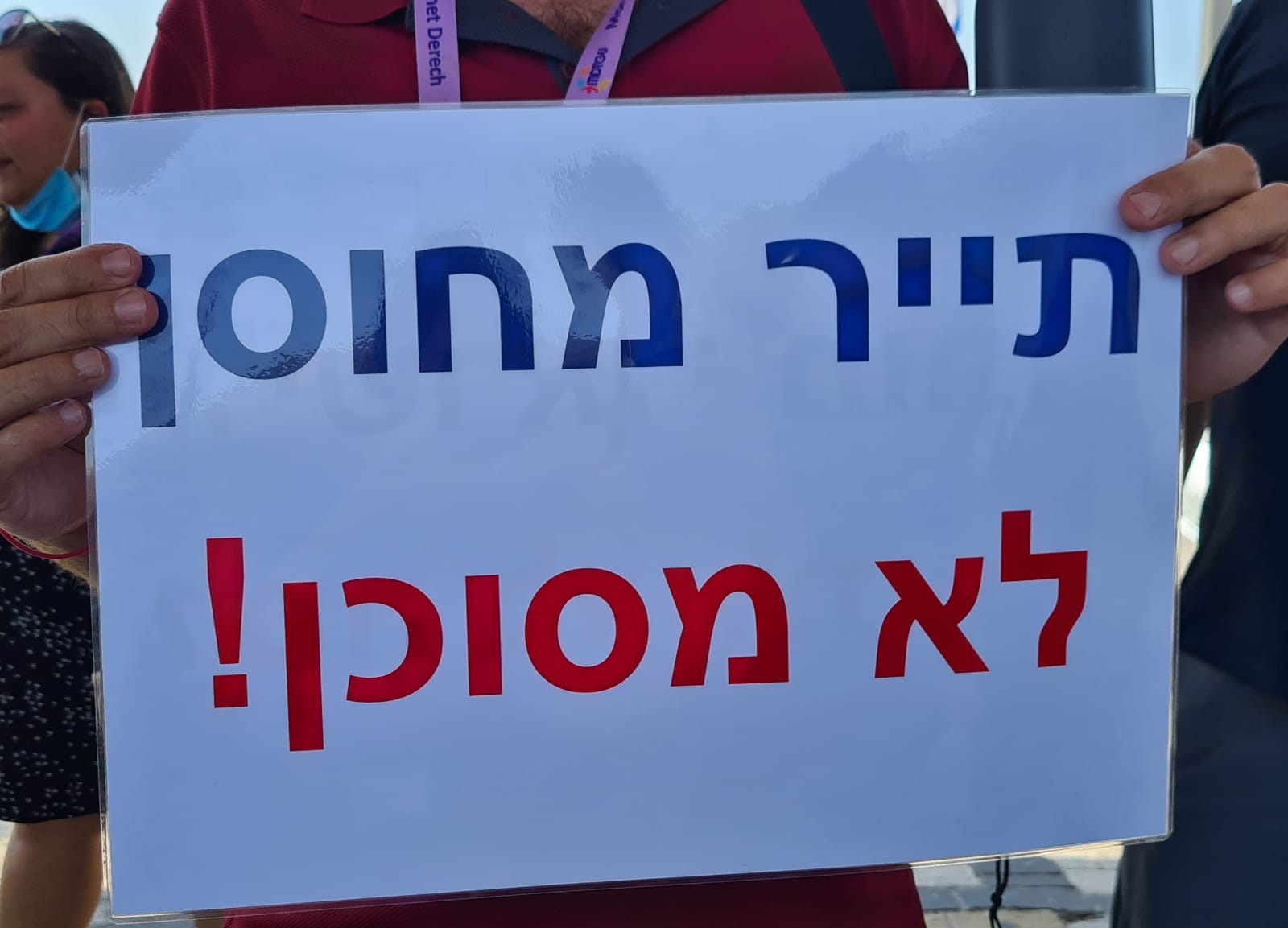 "A vaccinated tourist is not a dangerous tourist!" (Photo: Darya Short)
The procedure to get approval for an incoming tour group is meticulous. Tourists must be vaccinated, take two COVID tests and a blood test. Then they travel in a capsule to pre-approved sites under the government's Green Passport system that only permits entry to sites to those vaccinated or recovered from COVID.
"Not one tourist brought in a variant nor left with a variant," Shapira said.
Just this week, Tourism Minister Yoel Razvozov posted a video of himself on Facebook getting a third COVID injection, broadcast live on the news.
Most responders expressed anger that while the tourism industry collapses, Razvozov was getting a shot.
"When are you going to lend a shoulder to tourism?" asked one person in the comments, playing on the Israeli vaccine campaign slogan, "lend a shoulder."
Nicole Jansezian was the news editor and senior correspondent for ALL ISRAEL NEWS.
A message from All Israel News
Help us educate Christians on a daily basis about what is happening in Israel & the Middle East and why it matters.
For as little as $5, you can support ALL ISRAEL NEWS, a non-profit media organization that is supported by readers like you.
Donate to ALL ISRAEL NEWS
Current Top Stories
Comments