Top African-American Pentecostal bishop leads milestone tour to Israel
Church of God in Christ Bishop Sheard: "We have to come back home and reacquaint ourselves with the Word of God"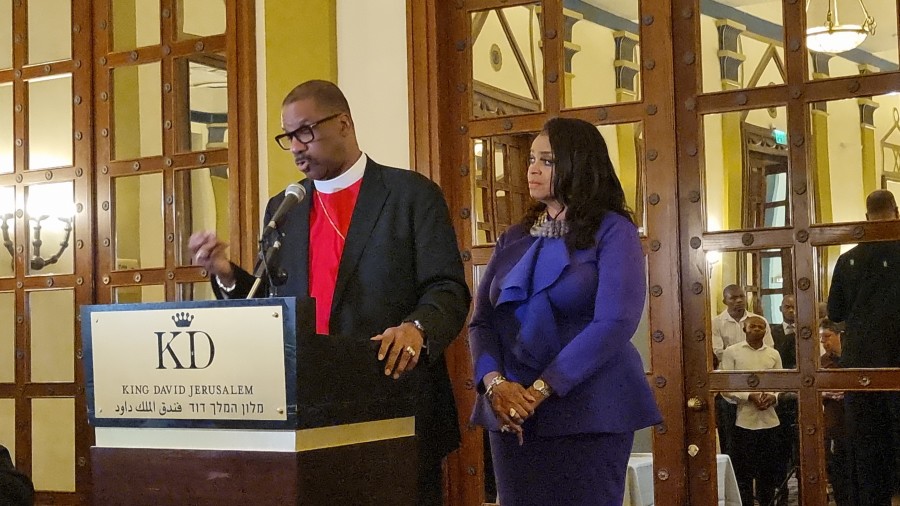 Church of God in Christ Bishop J. Drew Sheard and First Lady Karen Sheard (Photo: ALL ISRAEL NEWS)
JERUSALEM—As the largest delegation of African Americans to Israel begins a tour of the Holy Land this week, the deeper significance of their presence in the country isn't simply the numbers. 
"It is a connection of not just our church, but Black America" to Israel, Glenn Plummer – the Church of God in Christ bishop to Israel – told ALL ISRAEL NEWS on Monday.
Plummer and his wife Ruth Pauline Plummer, Ph.D., hosted a ceremony at the King David Hotel in Jerusalem to welcome COGIC Presiding Bishop J. Drew Sheard and First Lady Karen Sheard – a Grammy Award winner – to Israel.
This is the first official visit to Israel made by the denomination's top leader and it marks a significant milestone for COGIC, a denomination that was founded in 1897 by African Americans who had come out of slavery.
Support of Israel by African Americans has been mixed. While Martin Luther King Jr. was a Zionist and African Americans have traditionally empathized with the Israelites' bondage in slavery, recent trends show growing sympathy for Palestinians who are frequently portrayed as an oppressed minority group.
That is why this tour has received media attention in Israel and has caught the eyes of the government as well. In addition to dozens of bishops, 150 COGIC delegates are part of the tour, plus a separate group hosted by COGIC of Black women in political leadership. 
Knesset members and other politicians were present to welcome Bishop Sheard on Monday night.
With 6.5 million members worldwide and 12,000 congregations in the United States and a presence in 113 nations, COGIC is considered the largest Pentecostal church in the world. Two years ago, COGIC sent the Plummers to Israel to build stronger ties between Israel and Black American Christians through, among other outreaches, a media institute.
"Now our presiding bishop comes – speaking literally for 6.5 million people worldwide – and for him to show his presence and support of Israel, I think that speaks volumes," Plummer said.
This visit to Israel marks Sheard's third international trip in a month. During his remarks on Monday, Sheard said he senses that "time is short" and underscored the importance of coming "home" to the Holy Land in order to understand God's purposes for these times.
"Our lots are very similar when it comes to the Jews. Therefore, in order for us to get a greater appreciation for what God is getting ready to do with us, we have to come back home and reacquaint ourselves with the Word of God that has spoken to us prophetically about where we are and where we are going," Sheard said. 
He noted the suffering – and slavery – that both the Jewish people and Black Americans experienced in their history.
"We too have suffered and now we unite because, even though we all suffered, we are suffering for a greater cause," Sheard said.
Sheard also commended the diversity of the crowd which included religious and non-religious Jews, Palestinian Christians and Messianic Jews. He said it is time to "stop fighting each other and come together."
"Our commonality is that we love the Lord and that we have dedicated our lives to the Lord's cause," Sheard said.
"We are a church that is concerned for all people. We are not just concerned for African Americans, it just so happens to be that we are predominantly Black," he added.
Among several speakers who greeted the group, Steven Khoury – a Palestinian Christian – urged the delegates to use their time on tour to decide how they can help once they return home. 
"Rather than it be just an experience, the call to action is, 'What can I do for both the Jewish community and the Christian Arab community?'" he said.
He also exhorted them to seek God's heart for all the people in this land. 
"Don't be a person who loves the Jews and hates the Arabs, or love the Arabs and hates the Jews. There is enough room in the heart of the Father to love both," Khoury said. "We don't benefit when you walk away being one sided. We benefit when you walk away being peacemakers as Christ says, 'Blessed are the peacemakers for they shall be called sons of God.'"
Reuven Doron, a Messianic Jew who works in the tourism industry, acknowledged that tours of the Holy Land are typically fast paced and chock full of information.
Doron prayed that the delegation members would find moments to process what the Lord wants them to glean during their visit.
"So we want to bless you and tell you His words," Doron continued, "'Come to Me all ye who are tired and heavy laden and I will give you rest. Learn of Me, for I am humble and lowly of spirit, that you may find rest for your soul. For My burden is easy and My yoke is light.'"
Nicole Jansezian was the news editor and senior correspondent for ALL ISRAEL NEWS.
A message from All Israel News
Help us educate Christians on a daily basis about what is happening in Israel & the Middle East and why it matters.
For as little as $5, you can support ALL ISRAEL NEWS, a non-profit media organization that is supported by readers like you.
Donate to ALL ISRAEL NEWS
Current Top Stories
Comments