Sen. Lindsey Graham visits Israel on 48-hour solidarity trip, tells ALL ISRAEL NEWS he will push for $1 billion in US funding for more Iron Dome interceptors
Graham, a conservative Republican, praised President Biden for resisting the rising radical anti-Israel forces in the Democrat party
Prime Minister Benjamin Netanyahu at the Prime Minister's Office in Jerusalem, with U.S. Sen. Lindsey Graham, May 31, 2021. (Photo: Koby Gideon/GPO)
DUBAI, UNITED ARAB EMIRATES—Sen. Lindsey Graham, one of the most faithful supporters of Israel on Capitol Hill – and a friend for the past six years or so – called me Tuesday evening here in Dubai.
He was on his way to Ben-Gurion International Airport and was kind enough to brief me on his 48-hour trip to Israel to show solidarity with the Israeli people and government after the recent Gaza war in which Hamas and Islamic Jihad fired more than 4,300 rockets at Israeli civilians.
Graham told me that he is heading back to Washington to propose and fight for $1 billion in additional U.S. funding for Israel to purchase more Iron Dome interceptors.
Thousands of interceptors were used during the war – they achieved a 90% rate of effectiveness of shooting down rockets.
Now, Israel's supply urgently needs to be replenished. The system also needs to be advanced and upgraded.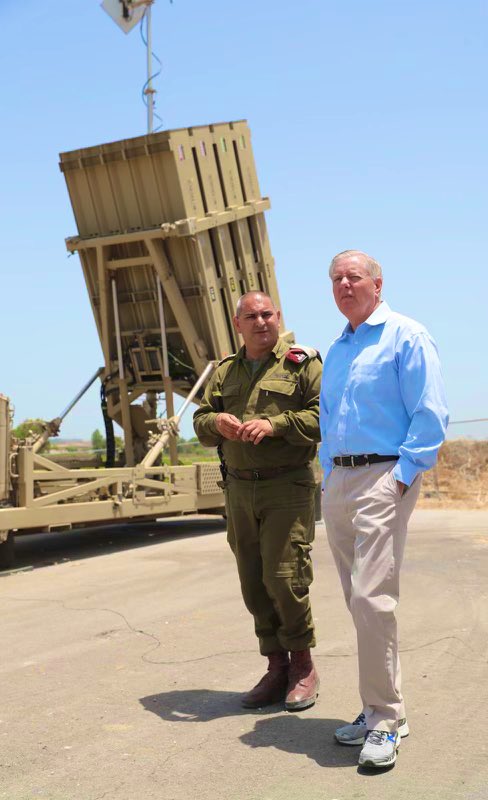 U.S. Sen. Lindsey Graham checks out Israel's Iron Dome batteries during visit. (Photo: Sen. Graham's Twitter feed)
"This was the largest sustained assault in maybe history and the Iron Dome performed incredibly well, saving thousands of Israeli lives and tens of thousands of Palestinian lives," Graham told reporters in Israel and reiterated to me. "I would imagine that the administration will say yes to this request and it will sail through Congress."
Despite intense anti-Israel hatred among the far-left of the Democratic Party, Graham – a conservative Republican – praised President Joe Biden for standing with Israel and fending off the radicals in his own party.
During the war, for example, Sen. Bernie Sanders of Vermont, Sen. Elizabeth Warren of Massachusetts, members of "The Squad," and others tried to rally opposition to military aid for Israel, but eventually backed off.
"There is a wide and deep support for Israel among the Democratic Party," Graham told reporters in Israel. "We appreciate the administration's willingness to seek from Congress more money for the Iron Dome system."
"I'm a Republican, and I've come here with a simple message," Graham noted. "Even though there are some Democrats saying things that are very disturbing to me, I do believe that President Biden and the majority of the Democratic Party will be in Israel's camp."
Graham told me he was moved on his visit to the southern Israeli city of Ashkelon where he visited homes damaged by terrorist rockets, met with Israeli families traumatized by the fighting, and met with IDF soldiers and officers.
June 1, 2021
Graham told me he met with Prime Minister Benjamin Netanyahu, now politically embattled and possibly on his way out of office after being the longest-serving premier in Israel's modern history.
It was, he said, a warm meeting between two old friends and political veterans.
"No one has done more for Israel than you, Sen. Lindsey Graham, a stalwart champion of our alliance and we have no better friend," Netanyahu said at a press conference. "I want to thank you for everything you've been doing over the years on our defenses, our security, on Iran. You've been a tremendous friend and a tremendous ally."
Great meeting this morning in Jerusalem with @IsraeliPM Netanyahu.

'More for Israel' to help protect and defend from Hamas rocket attacks. pic.twitter.com/1eW112lw9W

— Lindsey Graham (@LindseyGrahamSC) May 31, 2021
Graham sent a series of tweets before taking off back to Washington.
"To those on the American Left who believe that the conflict between Hamas and Israel has been spurred on by right-wing politics in Israel – you do not understand the nature of the conflict," Graham wrote.
"Hamas in Gaza and Hezbollah in Lebanon are radical Islamic groups that wish to destroy the Jewish state," he added, noting that these terror groups are not driven by their hatred of Netanyahu but by their radical interpretation of the Quran.
"If you don't understand this, you're making the biggest mistake since Neville Chamberlin's Munich Agreement with Hitler. I urge the middle and left of Israeli politics to set the American left straight as to the true nature of this conflict while we still have time."
The Jerusalem Post and Times of Israel provided solid coverage of Graham's visit.
Joel C. Rosenberg is the editor-in-chief of ALL ISRAEL NEWS and ALL ARAB NEWS and the President and CEO of Near East Media. A New York Times best-selling author, Middle East analyst, and Evangelical leader, he lives in Jerusalem with his wife and sons.
A message from All Israel News
Help us educate Christians on a daily basis about what is happening in Israel & the Middle East and why it matters.
For as little as $5, you can support ALL ISRAEL NEWS, a non-profit media organization that is supported by readers like you.
Donate to ALL ISRAEL NEWS
Current Top Stories
Comments