Russian foreign minister's 'Nazi' rhetoric met with international condemnation
"I believe that Hitler also had Jewish blood" and "Some of the worst anti-Semites are Jews," says Lavrov in a Sunday interview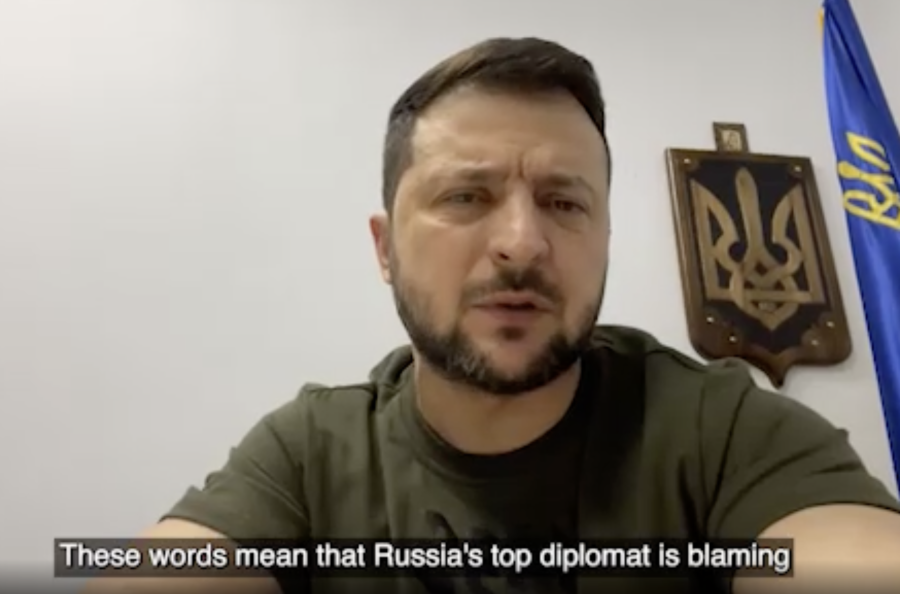 Ukrainian President Volodymyr Zelenskyy responds in his nightly video to Russian Foreign Minister Sergei Lavrov's 'Nazi' comments (Photo: Screenshot)
The Foreign Ministry in Jerusalem summoned the Russian Ambassador to Israel Anatoly Viktorov Monday for a "clarification conversation," over abhorrent comments made by Russian Foreign Minister Sergei Lavrov in an interview Sunday.
"So what if Zelenskyy is Jewish? The fact does not negate the Nazi elements in Ukraine. I believe that Hitler also had Jewish blood," Lavrov said during the interview. "Some of the worst anti-Semites are Jews."
"Our message was made clear by the [Foreign Ministry's] Eurasia director, Gary Koren," an Israeli official said about the meeting with the ambassador. "The two sides decided not to give any more details on the contents of the conversation."
Lavrov's comments were not only met with widespread outrage from Israeli leaders and politicians, but also widely slammed internationally.
Both Ukrainian President Volodymyr Zelenskyy and Foreign Minister Dmytro Kuleba reacted with outrage. Zelenskyy even appeared to imply that Israel should recall its ambassador to Russia over the remarks. Israel, meanwhile, is not "ruling out the possibility of a further deterioration of ties in the wake of the incident," according to officials as quoted by Israel's Channel 12 news.
"Russia's foreign minister openly and without hesitation said that the biggest anti-Semites were allegedly among the Jews themselves. And that Hitler allegedly had Jewish blood. How could this be possibly said on the eve of the anniversary of the victory over Nazism? These words mean that Russia's top diplomat puts the blame on the Jewish people for Nazi crimes. I have no words," Zelenskyy said.
"Such an anti-Semitic attack by their minister means that Russian authorities have forgotten all the lessons of World War II, or maybe they never learnt those lessons. So the question is whether the Israeli ambassador stays in Moscow knowing their new position – whether the relations with Russia remain as usual. Because all of this is not accidental. The words of the Russian Foreign Minister, a 'great connoisseur of Hitlerism' are not random."
Kuleba took his criticism even further, claiming that anti-Semitism was embedded within the mentality of Russian elites.
"This is the perverted logic of the Russian elite," Kuleba said in a video statement. "Even Minister Lavrov, who knows what diplomacy is, cannot hide anymore the deeply rooted anti-Semitism — the anti-Semitism that is deeply rooted into Russian elites. Let's admit the fact that Russians hate other nations. They believe in the supremacy of their own nation over others, and this is why this regime must be stopped in its aggressive plans and actions."
U.S. Secretary of State Anthony Blinken said it was "incumbent on the world to speak out against such vile, dangerous rhetoric."
"To invoke the lie of 'denazification' in Ukraine, a country with a Jewish president and a significant Jewish population living in peace among their fellow citizens, is baseless and cruelly deranged," the office of the U.S. Special Envoy to Monitor and Combat Antisemitism tweeted Monday.
Canadian Prime Minister Justin Trudeau blasted Lavrov for the comments Monday, saying that they were, "ridiculous and unacceptable."
"Canada and all right-thinking countries around the world and Canadians and everyone who stands against the horrors of the Holocaust and the tremendously concerning rise in hate crimes, whether it be anti-Semitism or anti-Islamophobia or anti-Black racism, we need to stand condemning ever stronger the ridiculous and unacceptable positions of Russia," Trudeau stated.
The German government's anti-Semitism commissioner also condemned Lavrov's remarks, saying they, "mock the victims of National Socialism in an unacceptable manner and shamelessly confront not only Jews, but the entire international public with open anti-Semitism. Lavrov is cynically twisting victims and perpetrators of past and present."
Germany's government spokesman Steffen Hebestreit told reporters: "I think the Russian propaganda being spread here by Foreign Minister Lavrov needs no comment – it's absurd."
The All Israel News Staff is a team of journalists in Israel.
A message from All Israel News
Help us educate Christians on a daily basis about what is happening in Israel & the Middle East and why it matters.
For as little as $5, you can support ALL ISRAEL NEWS, a non-profit media organization that is supported by readers like you.
Donate to ALL ISRAEL NEWS
Current Top Stories
Comments