Pfizer CEO: We chose Israel to test the vaccine because of Netanyahu's 'obsession'
Netanyahu called Albert Bourla 30 times, convinced CEO that Israel would be on top of things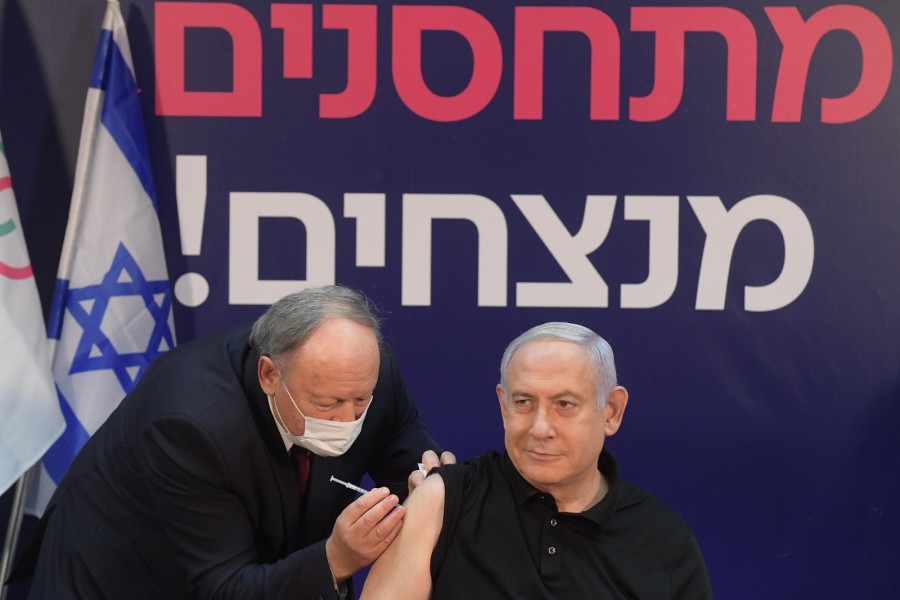 Prime Minister Benjamin Netanyahu gets vaccinated for COVID-19. (Photo: Amos Ben-Gershom/GPO)
The CEO of Pfizer said he chose Israel to be the "one country" to demonstrate his company's anti-COVID vaccine because he was "impressed, frankly, with the obsession of your prime minister."
In an exclusive interview with Israel's Channel 12, Albert Bourla said that Prime Minister Benjamin Netanyahu called him 30 times in order to persuade him to get the vaccine exclusively in Israel.
"He called me 30 times. He would call me at 3 o'clock in the morning and he would ask me about the (coronavirus) variants, what data we have," Bourla told anchor Yonit Levy. "And I would say, 'Prime Minister, it's 3 o'clock in the morning,' and he would say, 'No, no, don't worry, just tell me.' Or, he would call me to ask about children, 'I need to vaccinate the schools.' Or about pregnant women."
"He convinced me, frankly, that he would be on top of things," Bourla said.
"We placed our bet with Israel and we are so happy because of the way that you executed the vaccination. And a year from the declaration of the pandemic by the WHO (World Health Organization) we were able today to issue a press release together with the Ministry of Health of your country about the results."
With 5.1 million Israelis having received at least one dose of the vaccine, some 815,000 having recovered from COVID and 2.6 million children still ineligible to receive the injection, this puts Israel at "immunity" for almost 90% of its eligible population.
"I keep receiving calls from heads of state of other countries – they call me because they see the hope now," Bourla said.
In an interview a few weeks ago with NBC, Bourla called Israel the world's lab for his company's injection, an expression that didn't go over well with all Israelis. But in Thursday evening's interview he explained what he meant.
"I wouldn't call it the 'world lab.' We knew that the deployment of the vaccine would take time around the world. It is very appropriate … to be able to select one country that we can demonstrate what the vaccination of the people can do to the health index, to the health of the people, to the economic index because they would be able to reopen the economy," Bourla explained.
"I was talking to several heads of state, but your prime minister, he convinced me that Israel is the place with the right conditions."
Bourla noted the relatively small population of 9.3 million and an "extraordinary" HMO health care system with electronic monitoring systems that have the digital records of 99% of the population.
"And I knew that the Israelis, they have such an experience in managing crisis, surrounded by hostile nations and living under an almost-constant war situation," he said. "I felt they could do it and that the leaders would guarantee this was going to happen."
Some legal experts have speculated that a partially redacted contract with Pfizer, released to the public, specifies that Israel must vaccinate a certain amount of people in a specific amount of time. This could explain the relentless national promotion of the vaccine. The Ministry of Health has been running advertisements with officials promoting the vaccine and hailing its safety. And Netanyahu led the way, becoming the first Israeli to receive the shot, live on prime time TV on Dec. 19.
In addition to the promotional campaign, Israel implemented a "green pass" system whereby those who are not vaccinated are severely restricted in their access to certain venues. Lawmakers have even floated the idea of sanctions for those who are not vaccinated while several private companies have already required that the unvaccinated cannot work in their offices. The city of Tel Aviv became the first municipality to declare unvaccinated teachers cannot work at school.
Looking to the future, Bourla said he hopes that vaccine production will have a turnaround of 100 days in responding to variants that arise.
He also said that within a month the company will send its data on testing of 12 to 15 year olds and hopefully get approval for emergency use on children as well.
"We will start studies pretty soon on 5 to 11 year olds and those will be completed by the end of the year," Bourla said. "So that will enable us to go through the whole spectrum of school."
Israel, and Netanyahu in particular, has been eager to vaccinate the entire population of Israelis and as soon as possible. While still awaiting statistics from Pfizer on this age group, Netanyahu said he wants the children vaccinated by June. Health officials have indicated they will not wait for FDA approval to use the injection on children from 12. In fact, Israel has already vaccinated some 700 children in high-risk categories from ages 12 to 16.
Israel was also the first country to approve and use the vaccine on pregnant women.
Bourla also reassured Israel that his company signed a contract with the government and not just Netanyahu who has campaigned on his role in bringing the vaccine to Israel so soon.
There were rumors circulating that Bourla canceled a visit to the country because he was not vaccinated with his own company's product. In fact, he received his second shot this week, he said. Bourla said the trip was postponed due to complications of travel to several countries, including the Jewish state.
Bourla, who is Jewish, had wanted to mark the first anniversary of the pandemic on March 11 in Israel. He offered his congratulations to the people of Israel this is the "path to liberation for the entire world."
Nicole Jansezian was the news editor and senior correspondent for ALL ISRAEL NEWS.
A message from All Israel News
Help us educate Christians on a daily basis about what is happening in Israel & the Middle East and why it matters.
For as little as $5, you can support ALL ISRAEL NEWS, a non-profit media organization that is supported by readers like you.
Donate to ALL ISRAEL NEWS
Current Top Stories
Comments