ON THE VERGE OF A SURGE: Daily COVID infections surge in Israel, government to approve fourth vaccine jab for more Israelis
"There will be tens of thousands of verified cases a day, very soon," warns PM Bennett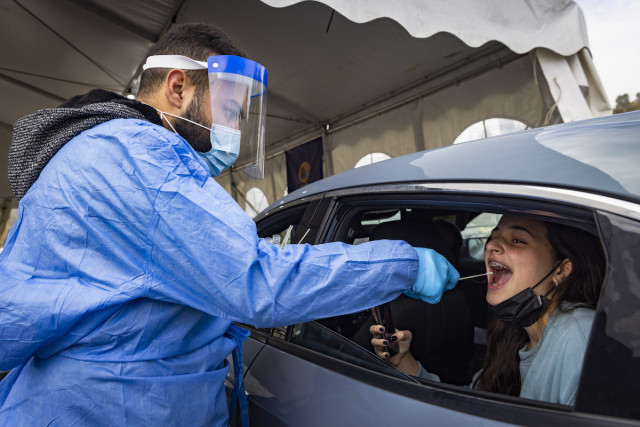 Health care workers test Israelis for COVID-19 in a drive thru complex in Jerusalem, Jan. 2, 2022. (Photo: Olivier Fitoussi/Flash90)
*Article updated at 9:10 Israel time
Daily infections in Israel spiked to 5,500 new cases on Friday, compared to less than 1,000 new cases just 10 days prior – meaning the number of active cases has almost tripled in one week to 31,958, largely due to the spread of the highly-contagious Omicron variant.
Health Ministry figures show that 4,197 new COVID cases were confirmed on Saturday, but given that fewer people test on Shabbat – Israel's day of rest – the figure, in fact, represents a 4.57% increase of positive test results in just one day.
Serious COVID cases, however, remain relatively low by comparison, from 77 hospitalized patients on December 22 to 110 on Sunday.
Since December 21, there have been four COVID-related deaths in the country. Israel's overall death toll remains at 8,244.
The Israeli government may soon impose new restrictions to address the rising number of cases – especially if the number of hospitalized COVID patients begins to spike – but on Sunday some senior health officials say those restrictions may be ineffective against the Omicron strain.
In an interview with Radio 103FM, Health Ministry Director-General Nachman Ash said: "There isn't enough knowledge to say the fourth vaccine will really prevent the mass infections."
Ash believes that Israel may reach herd immunity as the Omicron variant takes root.
"The trend is upwards – there will definitely be a surge," Ash said. "We will see bigger numbers. Where will it stop? It's hard to know. The price of herd immunity is very many infections, and that may end up happening." He added that it would be better to achieve herd immunity as a result of vaccinations, not infections.
Sunday evening, the government approved a fourth injection for a broader segment of Israel's population, for ages 60 and up. Israel was the first country to begin administering the fourth dose for the immunocompromised.
Ash further addressed issues about continuing education during the Omicron spread, assuring parents that the government wants to avoid a repeat of the "damages to [schoolchildren] sitting at home last year."
"We don't want to stop studies. This is a complex decision. We need to think about whether to enable attendance with daily [COVID-19] tests and vaccines, or switch to a policy of studies via Zoom. These things are currently being discussed."
Prof. Salman Zarka, Israel's coronavirus czar, told Kan Broadcasting that "we all need to do what we can to avoid a lockdown." However, he stated that adding new restrictions may not be effective against the speed of new infections.
Israel's remaining travel ban on 15 countries is reportedly set to be lifted later this week since they were originally intended to slow the arrival of Omicron in Israel.
Zarka said that the current COVID outbreak in Israel renders the government's decision to limit incoming travel from countries with high Omicron infections as "professionally illogical."
Last week, the Knesset lowered the number of "red" countries – from 69 to 15 – that Israelis were barred from traveling to, and that non-Israelis were allowed to arrive from. However, those 15 red countries include popular destinations, such as the U.S., Canada and the UK. The list also includes France, UAE, Switzerland, South Africa, Ethiopia, Tanzania, Nigeria, Hungary, Spain, Portugal, Turkey and Mexico.
"Over the coming week, we will have to weigh opening the skies," Zarka said.
At the weekly Cabinet meeting this morning – the first one in 2022 – Israeli Prime Minister Naftali Bennett addressed the increasing number of COVID cases in the country. Here are portions of his statement:
"Regarding Omicron, we are all feeling the increase in morbidity, and we already expect to see a doubling, and then a doubling of the doubling, in the coming days. This is how it works. It's clear. Even if those among us prefer to push things off, soon they will no longer be able to. There will be tens of thousands of verified cases a day, very soon."
"Our goal has always been the same – to allow the economy to function as much as possible while protecting the most vulnerable among us."
"The policy and the steps that we will take will be adapted to the morbidity situation and the absorption capacity of the hospitals. In parallel with the expected crowding at the hospitals, it must be kept in mind that the situation in which there are tens of thousands of verified cases a day is very difficult to manage logistically. These are numbers that neither we nor the world has known. Therefore, we see, for example, long lines for tests and we are working at this very moment to find solutions."
"To summarize, the storm is now reaching us. It will be difficult but with correct behavior and responsibility, together we will get through it."
The All Israel News Staff is a team of journalists in Israel.
Receive latest news & updates from All Israel
A message from All Israel News
Help us educate Christians on a daily basis about what is happening in Israel & the Middle East and why it matters.
For as little as $5, you can support ALL ISRAEL NEWS, a non-profit media organization that is supported by readers like you.
Donate to ALL ISRAEL NEWS
Current Top Stories
Comments