EXCLUSIVE INTERVIEW – PART ONE
Mike Pence says he's bullish on new Israeli PM Naftali Bennett, but blasts Biden's approach towards Iran, Afghanistan
Here's the column I wrote for The Jerusalem Post, based on an exclusive interview with the former vice president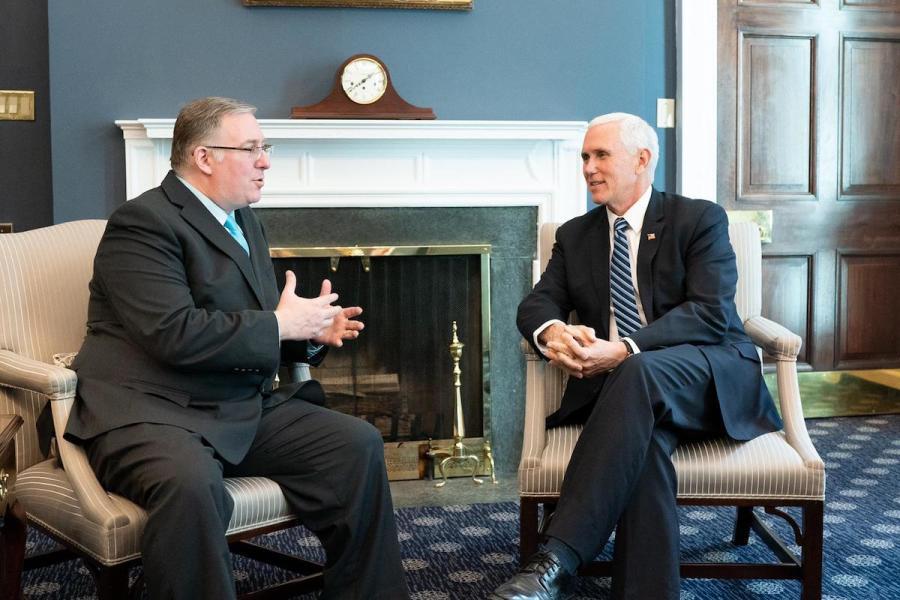 Joel C. Rosenberg with former US Vice President Mike Pence (Photo: All Israel News)
WASHINGTON, D.C. – On Tuesday, I spent nearly an hour talking to former U.S. Vice President Mike Pence about Afghanistan, Iran, the Abraham Accords, the future of U.S.-Israeli relations and Israel's new Prime Minister Naftali Bennett.
Today, The Jerusalem Post published a column I wrote based on excerpts from that interview.
Tomorrow on ALL ISRAEL NEWS we will publish part two.
Here is my column for The Post:
"Weakness arouses evil," former Vice President Pence says, blasting Biden's approach towards Iran, Afghanistan
In an exclusive interview, Pence makes it clear he is bullish on Bennett, calls the new Israeli Prime Minister "immensely talented," urges him to strengthen "bipartisan" support of Israel despite deep differences with Biden on how to deal with Mideast threats
As Israeli Prime Minister Naftali Bennett lands in Washington for his first-ever meeting with U.S. President Joe Biden in their new roles, a key member of the previous administration has some advice for the new Israeli leader.
Despite deep Israeli concerns with the White House over how to handle major threats in the Middle East, remember that there is strong bipartisan support for Israel and do your best to strengthen that support – you'll need it in the months and years and crises ahead.
On Tuesday, I spent nearly an hour on the phone with former Vice President Mike Pence.
He was preparing to depart for a series of speeches and meetings in Europe, but he was candid – indeed, blunt – in his criticism of how Biden is handling Iran and Afghanistan.
But he was bullish on Bennett, and expressed genuine optimism that Bennett will be able to successfully navigate Israel's serious and significant policy differences with Biden and his team.
ON AFGHANISTAN
I began by asking the former VP his take on Biden's policy in Afghanistan.
Pence was unequivocal.
"The disastrous withdrawal of American forces from Afghanistan by the Biden administration has been a disgrace," he told me.
"It dishonors the service and sacrifice of every American who bravely served over the last 20 years defending freedom in Afghanistan – and it didn't have to happen, despite what President Biden continues to repeat. It didn't have to happen."
I noted that President Trump himself wanted to withdraw all US forces from Afghanistan. What's the difference between the Trump-Pence administration's approach, and Biden's?
"The main difference, I believe, is the credible threat of force," he said.
"When our administration negotiated in February of 2020 the peace agreement with the Taliban, there were clear criteria and conditions that had to be met. But we also negotiated that agreement just weeks after American forces took out Iranian General Qassem Soleimani, and after we took down the ISIS caliphate, and took out ISIS leader Abu Bakr al-Baghdadi."
Pence noted that "when the President spoke to [Taliban leader] Mullah [Abdul Ghani] Baradar [Akhund], on the telephone in the Oval Office, he conveyed to him that we all want peace. We want an end to all violence and war in Afghanistan. But if they didn't keep the deal, the response would be swift and severe."
"I'm confident that they knew he meant it," Pence insisted. "I think Assad in Syria learned the hard way that President Trump meant what he said. So did Baghdadi. So did the Iranians. So, I think what is absent [from the Biden approach] is the credible threat of the use of force."
ON THE IRAN THREAT
Next, I asked Pence what he thought the Iranian leadership was learning from how Biden has been handling Afghanistan.
"I think the recent attack on an Israeli ship tells you everything you need to know about Iran's posture today," he said.
"President Biden has announced that we've re-entered negotiations for the Iran nuclear deal" even though "we see Iran returning to its malign behavior in the region."
That, Pence believes, is a very serious mistake.
"Weakness arouses evil," he said.
He was especially incredulous that Biden had invited Iran back to the negotiating table at a time when it just elected as president Ebrahim Raisi, who was under US sanctions for the murder of upwards of 30,000 Iranians before he even entered office.
ON NAFTALI BENNETT?
Is the new Israeli premier up to the challenge of dealing effectively with the Iran threat, and with the Biden retreat from the Middle East?
Pence began with praise for Bennett's predecessor.
"I will always be grateful for the leadership of former Prime Minister Benjamin Netanyahu," he said. "I thought he led Israel with courage and distinction. And we're truly grateful – truly grateful – for the way that the U.S.-Israel relationship was strengthened in historic ways during our administration and under his leadership."
That said, Pence had high praise for Bennett.
"I have met Prime Minister Naftali Bennett," he said. "I met him when I was a Member of Congress and he was a Member of the Cabinet. We had a very good conversation."
"He's obviously immensely talented," Pence added. "And while he leads a coalition government, I know him to be a clear-eyed conservative."
Pence emphasized the importance of Bennett recognizing, building upon, and strengthening – deepening – the strong bipartisan support for Israel in Washington, and across the American people, that has been strained in recent years.
"I would just hope he [Bennett] comes to the United States knowing that the support for Israel is broad and bipartisan," Pence said. "It spans the entire nation– and whatever the internal and domestic politics are in Israel, Bennett and the coalition government he leads can be confident that yesterday, today and always America stands with Israel."
Joel C. Rosenberg is the editor-in-chief of ALL ISRAEL NEWS and ALL ARAB NEWS and the President and CEO of Near East Media. A New York Times best-selling author, Middle East analyst, and Evangelical leader, he lives in Jerusalem with his wife and sons.
A message from All Israel News
Help us educate Christians on a daily basis about what is happening in Israel & the Middle East and why it matters.
For as little as $5, you can support ALL ISRAEL NEWS, a non-profit media organization that is supported by readers like you.
Donate to ALL ISRAEL NEWS
Current Top Stories
Comments