Lapid blasts Russian foreign minister's remarks as 'unforgivable and outrageous,' demands apology
Other Israeli politicians also reacted forcefully to Lavrov's comments, finding them to be outrageous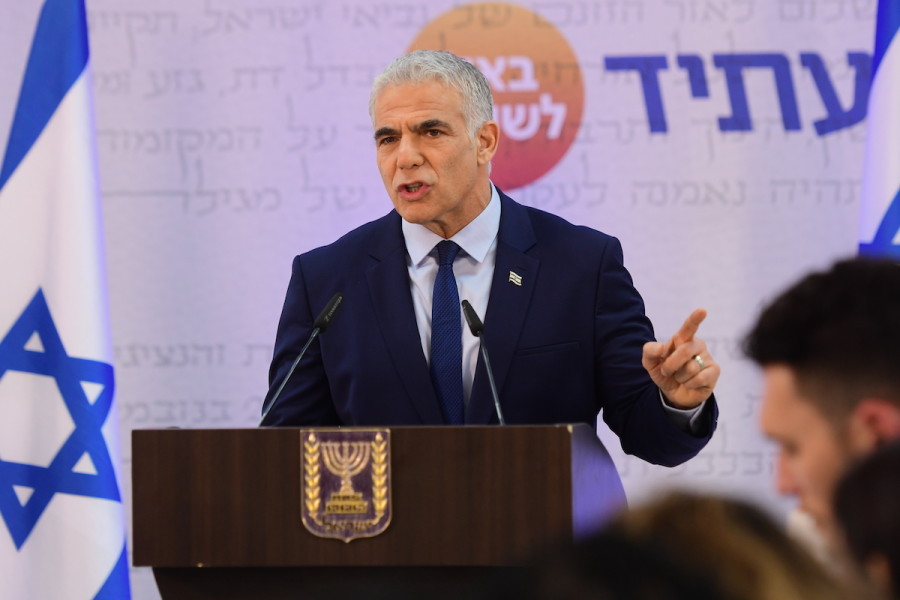 Israeli Foreign Minister Yair Lapid holds a press conference in Tel Aviv, Apr. 14, 2022. (Photo: Avshalom Sassoni/Flash90)
Israeli Foreign Minister Yair Lapid panned comments made by Russian Foreign Minister Lavrov in an interview with an Italian television channel Sunday, and said that Russian ambassador to Israel Anatoly Viktorov will be summoned for "a not-so-easy talk," in which he will be expected to apologize.
During the interview, Lavrov attacked Ukrainian President Volodymyr Zelenskyy and once again brought up the Russian claim that Ukraine must be "denazified." 
"So what if Zelensky is Jewish? The fact does not negate the Nazi elements in Ukraine. I believe that Hitler also had Jewish blood," Lavrov said. "Some of the worst antisemites are Jews." Historians have long disclaimed theories that Hitler had partly Jewish ancestry.
"Zelenskyy can promote peace between the states if he stops giving orders to his Nazi forces that border on crime," Lavrov went on to say. 
"This is an unforgivable and outrageous statement and a terrible historic mistake and we expect an apology," Lapid told Ynet on Monday in a reaction to Lavrov's comments.
"Jews did not kill themselves in the Holocaust. My grandfather was killed by Nazis. To say that Hitler was of Jewish origin is like saying that Jews killed themselves and we cannot forgive such a comparison," Lapid continued. "It enrages me not only as foreign minister but also as a son of my father's who was put in the Budapest ghetto. He was not put there by Jews. He was put there by Nazis. The Nazis persecuted the Jews and killed six million of them. Ukrainians were not Nazis. Only the Nazis were Nazis and they had conducted a systematic eradication of the Jewish people."
When Russian President Vladimir Putin first announced his invasion of Ukraine on February 24 – what Putin called a "special military operation" - he said that one of the goals was to "denazify" the country. He claimed that he was going into Ukraine to protect Russian minorities in the country from "genocide". 
"To this end, we will seek to demilitarize and denazify Ukraine," Putin said at the time, according to Russia's state news agency Tass, "and put to justice those that committed numerous bloody crimes against peaceful people, including Russian nationals." 
Putin's claim of a need to "denazify" Ukraine has been widely and strongly condemned, especially because Ukraine's leader, President Volodymyr Zelenskyy, is Jewish. "How can I be a Nazi?" Zelenskyy once asked. "Explain it to my grandfather, who went through the entire war in the infantry of the Soviet army, and died a colonel in an independent Ukraine." 
Other Israeli politicians also reacted forcefully to Lavrov's comments, finding them to be outrageous.
"I view with utmost severity the Russian Foreign Minister's statement. His words are untrue and their intentions are wrong," said Israel Prime Minister Naftali Bennett.
"The goal of such lies is to accuse the Jews themselves of the most awful crimes in history, which were perpetrated against them, and thereby absolve Israel's enemies of responsibility," Bennett continued. "As I have already said, no war in our time is like the Holocaust or is comparable to the Holocaust. The use of the Holocaust of the Jewish people as a political tool must cease immediately."
"For historical accuracy: Hitler did not have Jewish blood and what is happening in Ukraine is outrageous," Communications Minister Yoaz Hendel told Army Radio. "Denigrating the Holocaust is something that I'm not willing to accept and nothing should be compared to the acts of the Nazis." 
"Hitler did not have 'Jewish Blood' and repeating this abhorrent falsehood puts blame for the worst antisemitic crime in history on Jews," Diaspora Affairs Minister Nachman Shai said while calling on Lavrov to "immediately" retract the comment. "Blaming Jews for crimes against Jews is intrinsically antisemitic."
Israel's Yad Vashem Holocaust Museum also denounced Lavrov's comments as "false, delusional and dangerous, and worthy of all condemnation." 
Lavrov's comments came just days after Israel commemorated Holocaust Remembrance Day.
At the beginning of the invasion of Ukraine, Israel refrained from explicitly criticizing Russia, but Lapid openly and explicitly criticized Putin's invasion in early April, when he said that Russian forces were committing war crimes.
"A large and powerful country has invaded a smaller neighbor without any justification. Once again, the ground is soaked with the blood of innocent civilians," Lapid said at the time. "The images and testimony from Ukraine are horrific. Russian forces committed war crimes against a defenseless civilian population. I strongly condemn these war crimes."
The All Israel News Staff is a team of journalists in Israel.
A message from All Israel News
Help us educate Christians on a daily basis about what is happening in Israel & the Middle East and why it matters.
For as little as $5, you can support ALL ISRAEL NEWS, a non-profit media organization that is supported by readers like you.
Donate to ALL ISRAEL NEWS
Current Top Stories
Comments