Israeli Prime Minister Naftali Bennett says he will not run in the upcoming elections
Bennett will remain as alternate-prime minister under Yair Lapid who will lead the country until the fifth election in three years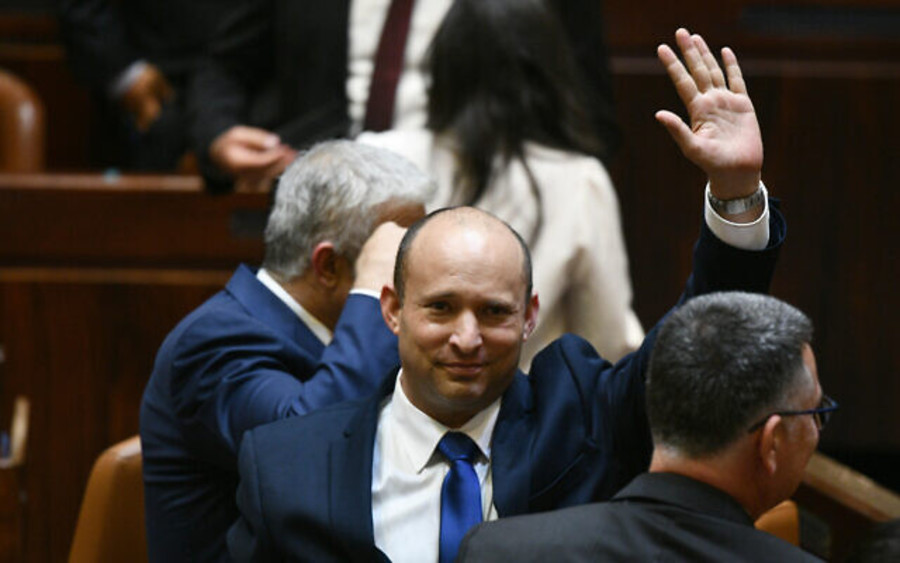 Prime Minister Naftali Bennett, June 13, 2021 (Photo: Haim Zach/GPO)
Israel's shortest serving prime minister, Naftali Bennett, announced on Wednesday that he will not run in the country's upcoming elections. 
"I do not intend to run in the next elections, but will remain as a loyal soldier of the country. The State of Israel is the love of my life. Serving the state is my destiny," Bennett said in a public statement from the Knesset.  
His announcement came as the Knesset is set to dissolve either in the night hours or tomorrow with the next elections expected to take place in the fall – either in late October or early November. Until then, Bennett will remain as alternate-prime minister under Yair Lapid, who will lead the country as the head of the transitional government. 
In his speech, Bennett, 50, promised that he will help Lapid, currently the foreign minister, as he prepares to take over his role. 
"I will help him as much as it takes. His success is the country's success," Bennett said of Lapid, despite numerous ideological gaps between them. 
He also said that soon "there will be additional important news in fields that relate to our future" without clarifying what he meant.
Bennett – who was also the first prime minister to wear a kippah – added that the government that they formed together managed to rally significant achievements.
"In one short year we were able to do more than other governments did in a longer term," he noted, listing several accomplishments.
"We've shown that people can work together even when they are ideologically divided. We brought quiet to the South, which hasn't happened in years. We brought hundreds of thousands of people on unemployment back to work. We avoided lockdowns. We made clear to our enemies that whoever sends terrorists to Tel Aviv will pay the price."  
Bennett also took a swipe at the opposition led by former Prime Minister Benjamin Netanyahu who is chomping at the bit for another crack at the top spot. Bennett noted that some supporters of opposition parties felt abandoned by their leaders.
"Just one thing saddens me," Bennett stressed. "Many good Israelis felt throughout the past year that their world has been destroyed.
"It cannot be that half the country feels itself in mourning when the other half runs the country. Both halves [of the political spectrum] need together to build a large and good government," he said.
Bennett praised his coalition's ability to work together despite the many differences between its members.
"We proved that people with very opposite views can work together. It is possible and necessary to put aside ideological disputes. If we are polarized – we will simply not exist," he said.
"Let's be good to good to one another, let's listen," the outgoing premier told the Israeli public. 
Bennett also thanked his fellow members of Yamina, including Matan Kahana, whom he referred to as the country's "best Minister of Religious Affairs to date," Abir Kara and Shirley Pinto, the first Knesset member who is deaf to serve in the Parliament.  
Before Bennett told members of his party about his final decision to sit out the next elections he spoke with his political partner, Interior Minister Ayelet Shaked. As Bennett's No. 2, Shaked is expected to lead the party as Israel goes to its fifth election in three years. She was quoted by Ynet as telling her confidants that Bennett's retirement is a "great loss to the State of Israel."
The latest poll from Channel 12 News found that Yamina, led by Shaked, would win five seats in the upcoming elections. The poll showed Netanyahu's Likud Party on top with 34 seats, and Lapid's Yesh Atid with 20. 
Ever since Bennett and Lapid made the announcement to dissolve the Knesset, there has been much speculation regarding the outgoing premier's political future. In his speech, Bennett did not reveal much about his future plans, only noted that "soon there will be more important news in areas related to our future and our power."
Israel's President Isaac Herzog thanked Bennett in a tweet.
"I thanked Prime Minister Naftali Bennett today for the close cooperation between us, for the State of Israel and its security and for acting with the good of the public and the state before his eyes. Our joint work has been in a good spirit, friendship and mutual appreciation and I wish him success in his future endeavors." 
Justice Minister Gideon Sa'ar also praised the prime minister.
"Naftali Bennett is an Israeli patriot. He was a good prime minister who filled the position in a stately manner. We worked with full cooperation for Israel and its citizens," he said on Twitter. "I am convinced that he will return to serve the country in the future. Naftali, thank you and good luck!"
Tal Heinrich is a senior correspondent for both ALL ISRAEL NEWS and ALL ARAB NEWS. She is currently based in New York City. Tal also provides reports and analysis for Israeli Hebrew media Channel 14 News.
A message from All Israel News
Help us educate Christians on a daily basis about what is happening in Israel & the Middle East and why it matters.
For as little as $5, you can support ALL ISRAEL NEWS, a non-profit media organization that is supported by readers like you.
Donate to ALL ISRAEL NEWS
Current Top Stories
Comments