Israeli PM takes on biased media coverage of Jerusalem violence and terror attacks
Bennett to CNN's Amanpour: "What you've been projecting is blatantly false. It's a lie, simply a lie... you're misrepresenting the facts"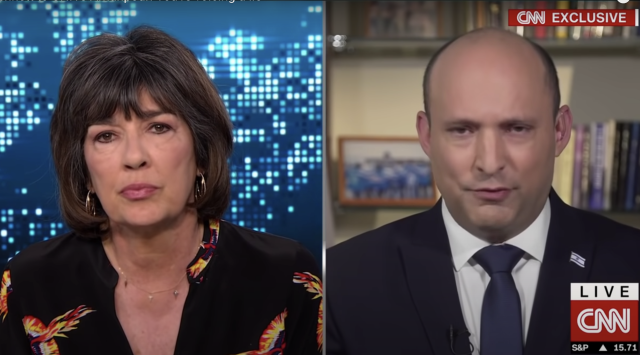 Israeli Prime Minister Naftali Bennett had a fiery back-and-forth interview with CNN anchor Christiane Amanpour on Wednesday with the prime minister saying the international media's coverage of the latest wave of terror in the country and violence on the Temple Mount is biased, placing the blame equally on both sides. 
"The facts that were presented are not accurate," Bennett told Amanpour. "Israel is peaceful, and about a month ago, unfortunately, a new wave of terror was thrown upon the Israeli public. We lost 14 people in four different terror attacks – in Beersheba, Hadera, Bnei Brak, in Tel Aviv center – where an Arab Muslim terrorist, some of them affiliated with ISIS, just came with rifles and started shooting people on the street. This is unacceptable.
"I object to the notion of 'both sides.' No. When they don't attack us – we have no issues with them. But when they do attack us, I have to fight back and hit them at their terror bases. And that's what any leader would do, and that's what I am doing," the Israeli premier added. 
When asked by Amanpour why he allows Israeli soldiers to go inside the al-Aqsa Mosque on the Temple Mount, citing the tensions it creates with Palestinians, Bennett replied: "Well, Christiane, there you go again starting the story in the middle." 
Amanpour then shook her head in disagreement, as Bennett continued.
"The actual fact is that last Friday, around 5 a.m. in the morning, roughly 300 Palestinian rioters entered (the) Temple Mount mosque with explosives, with stones, they began desecrating their own mosque.. burning... throwing stones, and preventing about 80 thousand decent Muslims from going to pray."
"My responsibility as prime minister of Israel is to provide freedom of prayer for everyone in Jerusalem, including Muslims, which is why I had to send in policemen to remove the rioters and it worked," Bennett added.
The Israeli police provided videos in their defense. They said that on Wednesday, rioters threw Molotov cocktails from inside the mosque – one of which fell on the carpet at the entrance to the mosque, causing a fire that was extinguished immediately. A video that police shared, showed another Molotov cocktail falling in the doorway of the mosque, which could have caused a fire. The rioters in the videos are seen wearing their shoes inside the mosque, which indicates they were not there for prayer and worship.   
"Regrettably, a crowd of lawbreakers chose to violently desecrate the mosque, causing damage," Israeli police said. 
They added that Arab social media networks spread false, inciting and misleading information about events on the Temple Mount in an attempt to escalate the situation. The police emphasized that many reports are "out of touch with reality" regarding events in the Temple Mount.
On Thursday morning, the police said that dozens of Palestinian lawbreakers and masked men rioted and disturbed the peace at the site with severe violence, as they have done in recent days. The rioters again closed the doors of the al-Aqsa Mosque, threw rocks and used fireworks, desecrating the holy place.
In her interview with Bennett, Amanpour shifted the conversation to the bigger picture of the Israeli-Palestinian conflict, and focused on what she called the "occupied" West Bank. She noted that "settlers are allowed to be there. It is a minority, I know that, but they are there and they are violent, this minority." 
"What you've been projecting is blatantly false," he said. 
"Why do you say that? Amanpour asked. 
"It's a lie, simply a lie," Bennett told the CNN anchor. 
"No, sir, you cannot say that to me," she retorted. "You cannot tell me I'm lying."
"Well, you're misrepresenting the facts… I said a tiny minority, and I object [to] the symmetry that you're trying to create here," he said. "Out of half a million Israelis that are decent, law-abiding Israelis, that are living in Judea and Samaria – there is several hundred, perhaps even less – that apply violence from time to time. But who is getting murdered? We are seeing Palestinians murdering Israelis, we are not seeing Israelis murdering Palestinians. And that is why there is no symmetry here. And I also object: these are not 'occupied territories.' They are territories in dispute."
Israel has emphasized that part of the bias is the international media's overlooking of Palestinian incitement. According to Honest Reporting, an organization that monitors the media for bias against Israel, international media outlets often fail to mention the cause of such tensions in Jerusalem. 
The organization cited an article from The Guardian which read: "The clashes have come during the Muslim holy month of Ramadan and ahead of the start of Passover on Friday, an overlap that can heighten tensions around sacred sites in Jerusalem's Old City." 
The reasons for these "tensions" are never detailed, said Honest Reporting. The organization also claims that numerous outlets refer to the potential for violence occurring in Jerusalem's Old City but fail to link it to a Palestinian leadership that encourages armed mobs to "protect" it. 
Israel's Foreign Ministry set out to battle false narratives and Palestinian propaganda on social media. 
Order of events in #AlAqsa Mosque over the last few days:

1) #Palestinian thugs disrupt the peace in the mosque, throw rocks, fire fireworks from inside it & endanger the holy site.

2) Police disperses them.

3) Calm is restored & thousands of Muslims pray in peace for Ramadan. pic.twitter.com/GCCtlhexQj

— Israel Foreign Ministry (@IsraelMFA) April 21, 2022
Another pro-Israel organization, Stand With Us, created alternative headlines for mainstream media headlines that did not present the full story behind the latest terror attacks in the country. 
"Fixed it for you @bbcnews," reads the Stand With Us post. Such memes have gone viral in recent weeks and were shared by many Israel supporters.  
Tal Heinrich is a senior correspondent for both ALL ISRAEL NEWS and ALL ARAB NEWS. She is currently based in New York City. Tal also provides reports and analysis for Israeli Hebrew media Channel 14 News.
A message from All Israel News
Help us educate Christians on a daily basis about what is happening in Israel & the Middle East and why it matters.
For as little as $5, you can support ALL ISRAEL NEWS, a non-profit media organization that is supported by readers like you.
Donate to ALL ISRAEL NEWS
Current Top Stories
Comments