Israeli PM Naftali Bennett: 'Iran seeks to dominate region under a nuclear umbrella' – hints Israel will act if world does not
"All redlines have been crossed," Bennett says addressing UN General Assembly in New York for first time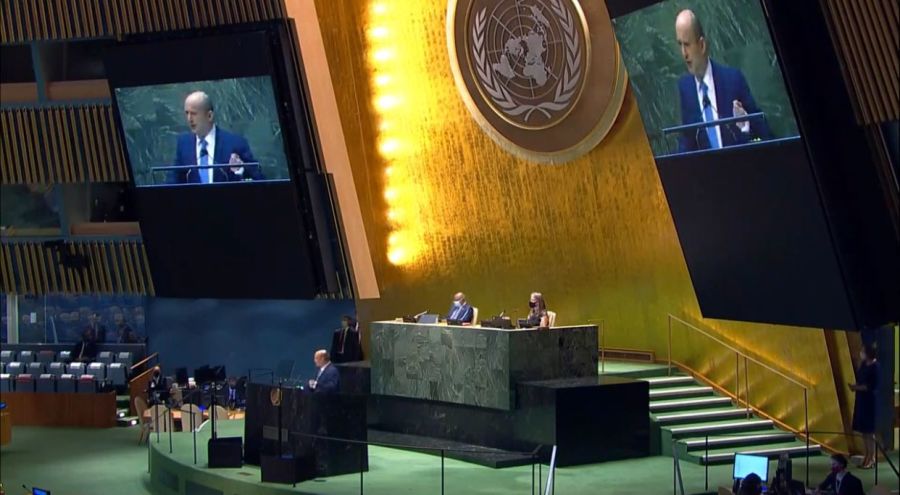 Photo: screenshot YouTube
In his first-ever address at the United Nations General Assembly, Israeli Prime Minister Naftali Bennett covered many themes from the "twin plagues" of the coronavirus pandemic and political polarization to the success of the Abraham Accords and Israel's positive role in the world.
But his main focus was the threat by the Iranian regime and its terrorist allies. Bennett warned that Iran's nuclear weapons threat has reached a "critical point," a "watershed moment."
"All redlines have been crossed," he said.
Iran has enriched uranium to 60%, just "one step away" from building bombs.
Iran is refusing to allow UN inspections.
"And they're getting away with it," he said.
"Words do not stop centrifuges from spinning," Bennett said adding that it is time for the international community to work together to stop Iran before it's too late.
However, Bennett strongly hinted that Israel will act alone if it must.
"There are those in the world who seem to view Iran's pursuit of nuclear weapons as an inevitable reality, or they've just become tired of hearing about it," he said.
"Israel doesn't have that privilege. We will not tire. We will not allow Iran to acquire a nuclear weapon," he insisted, arguing that "Iran is much weaker, much more vulnerable than it seems."
"While Israel strives to do good, we cannot lose sight for one moment of what's happening in our neighborhood," Bennett noted. "Israel is, quite literally, surrounded by Hezbollah, Shia militias, Islamic Jihad and Hamas. On our borders."
"These terror groups seek to dominate the Middle East and spread radical Islam across the world. What do they all have in common? They all want to destroy my country, and they're all backed by Iran. They get their funding from Iran, they get their training from Iran, and they get their weapons from Iran."
"Iran's great goal is crystal clear to anybody who cares to open their eyes: Iran seeks to dominate the region — and seeks to do so under a nuclear umbrella."
"Like the Midas touch, Iran's regime has the 'Mullah-touch.' Every place Iran touches — fails."
Bennett began his speech celebrating Israel's unique position as a democratic nation in the Middle East.
"Israel is lighthouse in a stormy sea, a beacon of democracy," Bennett told the gathered world leaders, "eager to contribute to the world despite being in the toughest neighborhood on earth."
"For way too long, Israel was defined by wars with our neighbors," he said. "But this is not what Israel is about. This is not what the people of Israel are about. Israelis don't wake up in the morning thinking about the conflict."
"Israelis want to lead a good life, take care of our families and build a better world for our children. Which means that from time to time, we might need to leave our jobs, say goodbye to our families and rush to the battlefield to defend our country."
"They should not be judged for it. Israelis remember the dark horrors of our past, but remain determined to look ahead, to build a brighter future."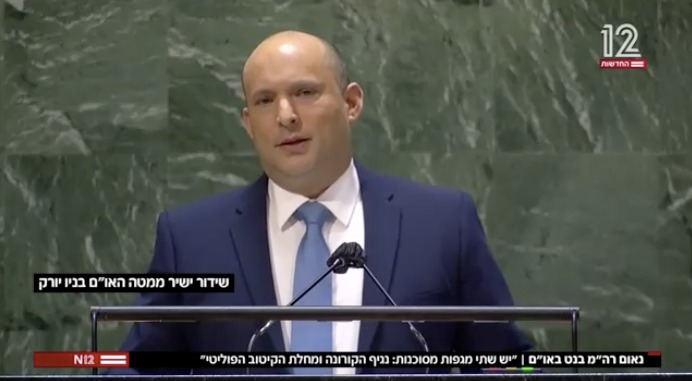 Photo: screenshot
Also on his agenda today:
* Bennett will meet with UN Secretary General Antonio Guterres.
* He will meet with Linda Thomas-Greenfield, who serves as U.S. President Joe Biden's ambassador to the U.N.
* He will also address the Jewish Federations of North America, which the Jewish Insider news service reports will be Bennett's "first on-the-record meeting with the American Jewish community since taking office earlier this year."
Just before the trip, Keren Hajioff was appointed international spokesperson for the prime minister of Israel.
"Prior to this position, Hajioff served in the IDF Spokesperson's Unit, with the rank of Major," noted a statement by the Prime Minister's Office. "She served as the Spokesperson of Northern Command, head of Social Media and head of Public Diplomacy. Hajioff holds a bachelor's degree in political science and a master's degree in political communication from Bar-Ilan University."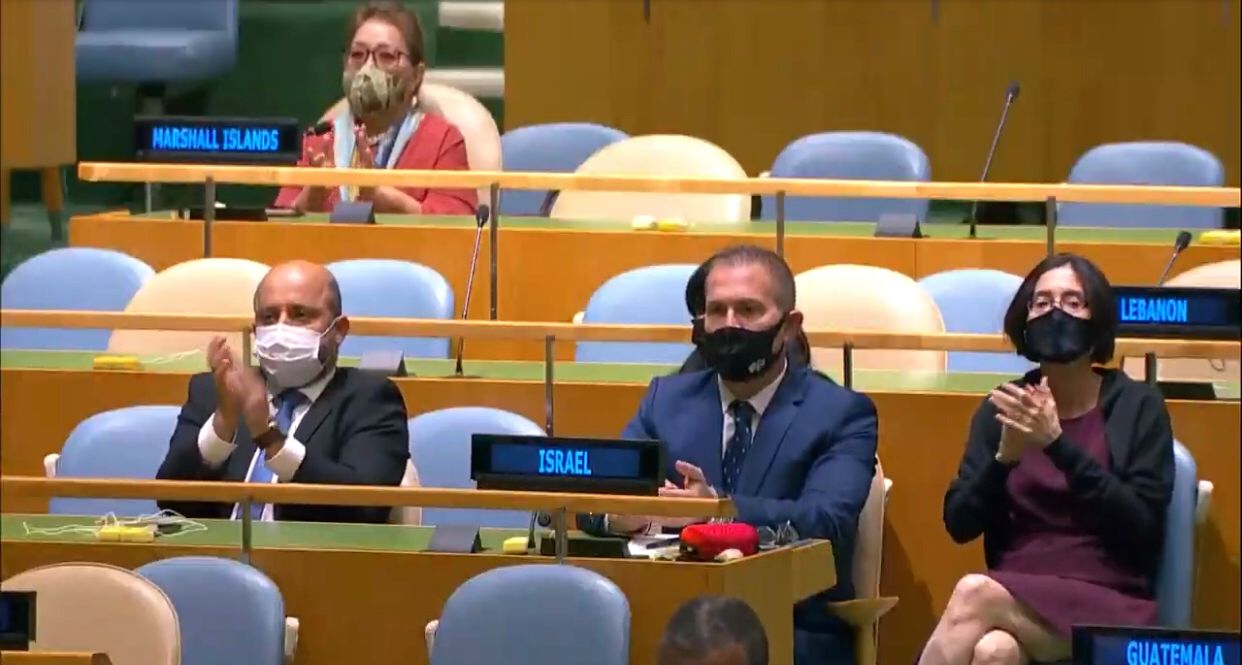 Photo: Screenshot YouTube
Joel C. Rosenberg is the editor-in-chief of ALL ISRAEL NEWS and ALL ARAB NEWS and the President and CEO of Near East Media. A New York Times best-selling author, Middle East analyst, and Evangelical leader, he lives in Jerusalem with his wife and sons.
A message from All Israel News
Help us educate Christians on a daily basis about what is happening in Israel & the Middle East and why it matters.
For as little as $5, you can support ALL ISRAEL NEWS, a non-profit media organization that is supported by readers like you.
Donate to ALL ISRAEL NEWS
Current Top Stories
Comments