Israeli government lays out strategy to combat online hate speech in new report
Report seeks to address anti-Semitism on social media platforms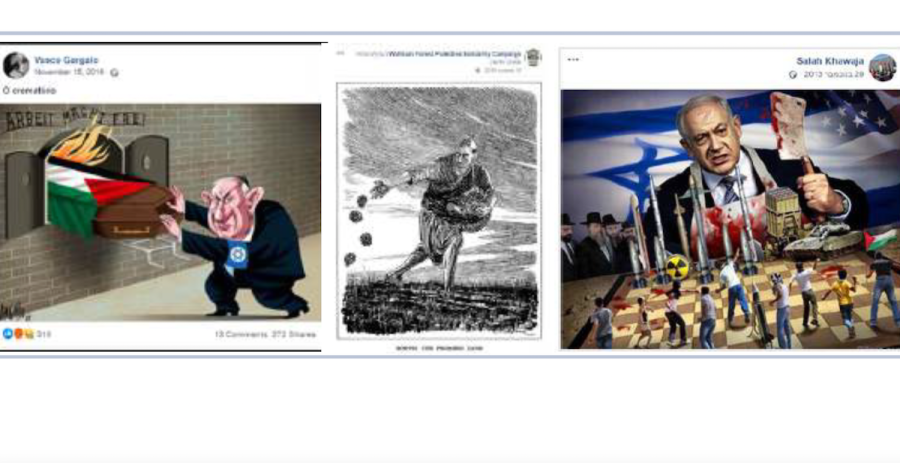 Examples of anti-Semitic social media posts provided in the "The Hate Factor" report.
Israel's ministries of Strategic and Diaspora Affairs have released "The Hate Factor" report, a new report on how to combat anti-Semitism on social media.
The framework for fighting hatred and bigotry online was presented in a special Knesset hearing on the International Safer Internet Day on Feb. 9. 
The report seeks to define a structured government response to hateful incitement, fake news and conspiracy theories disseminated through social media platforms. Conspiracy theories with anti-Semitic content have spiked worldwide because of the ongoing COVID-19 pandemic. A common theme in the recent anti-Semitic conspiracies is to blame Jews and the Jewish state for the coronavirus. Using a classic anti-Semitic trope, the Portuguese lawmaker Rodrigo Sousa e Castro, for example, recently attributed Israel's vaccination success to "Jewish money." 
"The Jews, as they dominate the fiscal world, bought and have the vaccines they wanted," Castro tweeted. 
The new report follows an earlier Ministry of Diaspora Affairs report, which predicted a continued increase in anti-Semitism in 2021. The newly released report includes clearly defined objectives for the government to engage social media outlets to improve policy and its enforcement against hate speech on the Internet. 
Blue and White Knesset Member Michal Cotler-Wunsh headed the committee debate, which included government officials and representatives of leading social media networks. The focus was on convincing social media companies to increase their efforts against anti-Jewish hate speech online. In addition, the debate addressed the crucial issue of promoting the implementation of efficient policy and enforcement against the spiking hatred on social media. 
Cotler-Wunsh addressed Twitter's inconsistent rules, which, among other things, enable Iran's supreme leader Ayatollah Ali Khamenei to continue advocating genocide against the Jewish people and the Jewish state. 
Strategic Affairs Minister Michael Biton addressed the need of combating falsehoods fueling hatred of the Jewish people and the Jewish state. 
"The Jewish people and the State of Israel are constantly being attacked through incitement, the spreading of misinformation, and outright lies. We have a special interest in taking the initiative on this issue and are holding social media companies accountable to start taking responsibility and act to implement clearer, more effective and transparent policies," said Biton. 
Minister of Diaspora Affairs Omer Yankelevich addressed the crucial issue of freedom of speech versus dissemination of hatred.  
"This framework is essential. Freedom of expression must not protect violent incitement and anti-Semitism. We recognize social media networks are taking on conspiracy theories and making strides towards removing Holocaust denial, both on Facebook and on Amazon," Yankelevich said. "But unfortunately, this is not enough. Anti-Semitism in all its forms is running rampant while under the auspices of unregulated social media networks. The outline published today will help in leading them to pursue a clearer and more aggressive policy against anti-Semitism." 
One major challenge in combating online anti-Semitism is the continued lack of a universally agreed upon definition of it. The new report urges key stakeholders to implement the IHRA Working Definition of Antisemitism, which makes important distinctions between legitimate criticism of Israeli policies on one hand and the demonization of Israel on the other hand.  While "classic" anti-Semitism targets the Jewish people, much of "contemporary" anti-Semitism targets Israel as the collective embodiment of the Jewish people. 
Another challenge is that social media platforms, such as Facebook and Twitter, enjoy significant freedom of action, which means that they can unilaterally create and selectively enforce their policies against hate speech. 
Anti-Semitism has often been referred to as the longest hatred. In its most lethal form, it led to massacres of Jews, which culminated with the Holocaust in the 1940s.
The All Israel News Staff is a team of journalists in Israel.
A message from All Israel News
Help us educate Christians on a daily basis about what is happening in Israel & the Middle East and why it matters.
For as little as $5, you can support ALL ISRAEL NEWS, a non-profit media organization that is supported by readers like you.
Donate to ALL ISRAEL NEWS
Current Top Stories
Comments