SILENCED? Israel's Health Ministry removes comments claiming adverse effects from the COVID vaccine on its social media post
The Ministry admitted that comments were deleted but said some of it was "fake news"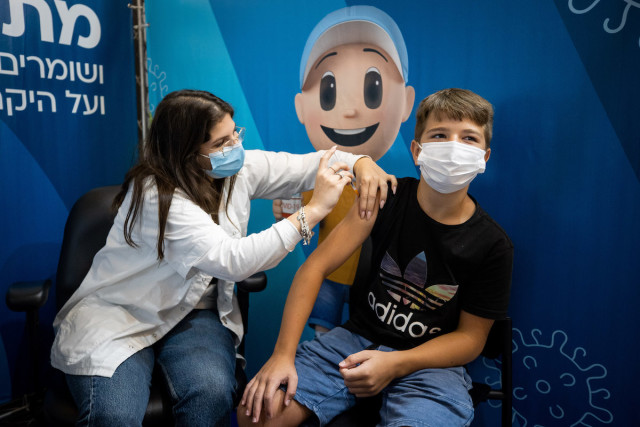 A 13-year-old Israeli boy receives his second dose of the Pfizer COVID-19 vaccine in Jerusalem, Aug. 29, 2021. (Photo: Yonatan Sindel/Flash90)
Israel's Ministry of Health deleted comments on its social media pages referring to adverse effects from the COVID vaccine – comments posted after the Ministry revealed new data claiming that minimal side effects were associated with the third jab, according to an Israeli news report.
The Ministry of Health published data on Thursday showing that out of 3.2 million Israelis who had received a third shot, only 19 reported serious adverse events within 30 days of the shot. Only 11 cases of myocarditis (inflammation of the heart muscle) in children ages 12 to 15 were recorded, making it a "very rare phenomenon," the Health Ministry said.
Israel's Channel 12 reported that subsequent comments claiming adverse reactions to the vaccine were deleted from the Ministry of Health's social media sites. Michal Or, who spoke with Channel 12, collected examples of deleted comments.
"Hundreds of people wrote their own testimonials about having side effects after the vaccine. The Ministry of Health deleted the reactions every few minutes," she said. "Some of us managed to take photos before they disappeared. The feeling is that there is no transparency and that information is hidden. There is no monitoring or encouragement system for reporting."
Some of the deleted posts included:
I must say that following this post of yours, I am quite worried. Until now I thought the Ministry of Health knew about the amount of side effects, but only silenced them. Now I understand that you have not seriously investigated the issue at all."

"I was vaccinated with two vaccines and after the second I was left with an arm that doesn't function, horrible pain and a feeling of amputation that has not passed for half a year ... no vaccine will enter my body again."

"A close friend caught meningitis immediately after vaccination. Another friend has shingles. I know many people who are suffering from severe fatigue. Most cases do not get proper treatment and are not reported by doctors and hospitals."
The COVID-19 Information Center admitted that comments were removed.
"The comments that were deleted included swearing, abusive comments, lies, fake news, links from fake news distributors, etc. Some are hidden by Facebook automatically and not by the page administrators," the center said. "It should be emphasized that the comments which express disappointment in or mistrust of the reporting of side effects were not hidden or deleted in any way. If we did not want them to respond, we would close posts for comments."
Many critical comments remained on the website, but the Ministry of Health claimed that this was an "organized and orchestrated attack by anti-vaxers" and even included a link to the Israeli version of VAERS (Vaccine Adverse Events Reporting System) where people can report side effects.
Nevertheless, Tehila Schwartz Altshuler, a senior fellow at the Israel Democracy Institute, said removing comments "raises suspicions of an attempt to suppress the public debate."
"Official pages funded by taxpayer money should not delete comments from the network unless they violate network rules or state laws," she said.
This news comes just after YouTube announced it will remove all anti-vaccine content, not just related to COVID and said it has removed over 130,000 videos for violating its COVID-19 vaccine policies since last year.
"Specifically, content that falsely alleges that approved vaccines are dangerous and cause chronic health effects, claims that vaccines do not reduce transmission or contraction of disease, or contains misinformation on the substances contained in vaccines will be removed," YouTube said in a blog post.
DOCTORS REPORT MORE ADVERSE EVENTS, CASES OF MYOCARDITIS
Yaffa Shir Raz, a public health communication lecturer, gave up and posted her comment on her own Facebook page.
"This response of mine to the Ministry of Health has been deleted four times so far," she wrote. "Every time, within one minute. Someone is sitting there on a Friday night serially-deleting my comments."
In her post, Raz referred to the testimony of another doctor who claims he has seen three cases of myocarditis in teens in just one clinic. Dr. Yoav Yehezkelli admits that until a double-blind study is performed, one cannot definitely rule the Pfizer shot caused the illness, but he pleaded with the Health Ministry that these reports "require an in-depth examination by the authorities."
And not just heart issues. Yehezkelli said he is seeing a rise in pulmonary embolism and thrombosis, shingles and unexplained head, muscle and joint pain among patients he treats.
"As is well known, there is no institutionalized reporting system in Israel and there is no active monitoring of side effects," he wrote on his Facebook page. "The studies that report safety are observational or data studies and they suffer from many biases. It is very important that the Ministry of Health investigates the phenomena, updates the professional and general public, and takes them into account in its recommendations. It is important that the Ministry of Health investigate in depth the sudden deaths of young people."
DATA: SIDE EFFECTS OF BOOSTER ARE "SIGNIFICANTLY MILDER"
This is especially important as the world looks to Israel as the pioneer of the booster campaign with more than one third of the entire population already having received the third shot.
The Ministry of Health posted its data on its Facebook page on Thursday and had received more than 20,000 comments as of Friday night, not counting the ones deleted. In its post, the Health Ministry said that the known side effects from the Pfizer shot are "significantly milder" from the booster shot compared to the first two doses and only 19 reported serious side effects.
The ministry also said that myocarditis – inflammation of the heart muscle – which was a particular concern for children ages 12 to 15, registered at an "insignificant rate." According to the data, only one boy reported myocarditis out of 331,538 children who had one dose while 11 reported the heart condition out of 255,444 children vaccinated with two doses. In fact, the ministry said that chances were significantly higher of succumbing to the rare condition from the coronavirus itself compared to the vaccine.
But one comment, which has not been deleted, questioned why the data does not look at the reason that 25% of children who received the first shot did not go back for a second.
"What is the reason for this if not significant side effects? After all, their parents have already decided they want to vaccinate them, so why are they not completing the 2nd dose?" the reader asked. "Enough lying. Start being transparent. Start testing the problems and not sweeping them under the rug."
GREEN PASSPORT EXPIRES SUNDAY FOR MANY
The news of insignificant side effects was welcome as the Green Passport is set to expire on Sunday for Israelis who were vaccinated or recovered from COVID more than six months ago and have not received a third shot.
This looming deadline caused an uptick in booster shot distribution on Friday as Israelis face losing privileges, quarantine exemption and access to places that are reserved for Green Passport-holders only.
But there is reason to hope that the fourth wave of COVID, which spiked in August and September, is on its way out.
"I believe we're on the road to a real drop [in infections], but we'll see it in the next few days," Health Ministry Director-General Nachman Ash told Radio 103FM. "I believe the fourth wave is coming to an end."
The number of patients in serious condition with COVID-19 is at 586, dropping below 600 for the first time since Aug. 17. The Health Ministry said that 422 of these patients are unvaccinated, 108 received two shots while 37 patients had received all three shots.
Nicole Jansezian is the news editor for both ALL ISRAEL NEWS and ALL ARAB NEWS and senior correspondent for ALL ISRAEL NEWS
A message from All Israel News
Help us educate Christians on a daily basis about what is happening in Israel & the Middle East and why it matters.
For as little as $5, you can support ALL ISRAEL NEWS, a non-profit media organization that is supported by readers like you.
Donate to ALL ISRAEL NEWS
Current Top Stories
Comments