Israel's Health Ministry wants billions of dollars – and secrecy – to buy 60 million more COVID vaccines
Ministry also demanding Cabinet ministers sign an NDA on COVID-related matters and immediate approval, before the next government is formed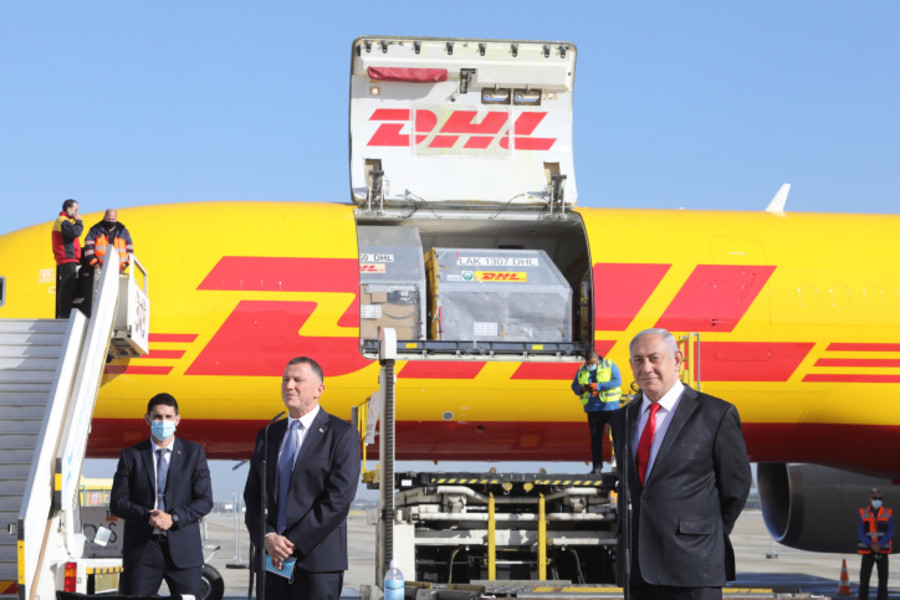 Israeli Prime Minister Benjamin Netanyahu and Health Minister Yuli Edelstein attend the arrival of the DHL freight plane transporting the first batch of Pfizer vaccines landing at Ben Gurion Airport on Dec. 9, 2020. (Photo: Marc Israel Sellem/POOL)
The Ministry of Health wants Cabinet ministers to guarantee a $2 billion budget for the health ministry, approve the purchase of millions of vaccines for future use and sign an NDA regarding coronavirus issues before the next government is formed.
Controversy erupted when Defense Minister Benny Gantz canceled the Cabinet meeting after failing to receive satisfactory responses as to why these actions were necessary, according to reports in Israeli media.
The Ministry of Health wants pre-approval now from the current lame-duck government for a multi-billion shekel "corona package" to ensure its budget and vaccine purchases.
The long knives came out for Gantz after he canceled. Likud, Benjamin Netanyahu's party, accused the defense minister of endangering Israeli lives, albeit Gantz had no problem approving the vaccine purchases. Instead, he was holding out, demanding that Netanyahu appoint a permanent justice minister by the end of this week, something Netanyahu has refused to do until now.
Since former Justice Minister Avi Nissenkorn resigned, Gantz was appointed as a temporary justice minister, a term which expires on Thursday. Gantz said he fears that without a justice minister, management of the transitional government could be negatively impacted.
Even Attorney General Avichai Mandelblit called the lack of a high-level minister "a very unusual and politically serious situation."
Nevertheless, Likud shifted the issue back to the vaccine purchase.
"An unbelievable scandal: for the sake of appointments and cushy jobs, Benny Gantz is preventing the signing of contracts for millions of vaccine doses that the citizens of Israel need in advance of the next vaccine," Likud tweeted on Sunday.
Likud's statements were bolstered by Health Ministry officials who expressed concern that Israel needs paid contracts now in order to secure its place on the global vaccine waiting list.
"There is real competition to buy vaccines by countries around the world," coronavirus commissar Nachman Ash told The Jerusalem Post. "We want to reserve our place at the top of the list and not be pushed down to the end so that we cannot get them [vaccines] when they are most needed."
However, some question the urgency of purchasing millions of vaccines now. The Emergency Council of the Coronavirus Crisis – a group of doctors and scientists who have opposed stringent and furtive measures taken by the government during the past year – sent a letter to Gantz demanding the removal of secrecy surrounding the purchase of vaccines and COVID-related decisions.
"If there is professional information that guides the decision, and justifies purchases in the billions during a period of extremely severe economic crisis, it should be shared with the public," the council wrote. "There is no reason for the cloud of secrecy that surrounds such professional decisions, which are supposed to be transparent and visible to all. It is this covert conduct that leads to the distrust of the public as well as many professionals, and ultimately undermines the cooperation of the citizens of Israel in the fight against the corona crisis."
Prime Minister Benjamin Netanyahu has been laying the groundwork over the past few months for regular vaccinations. At the World Economic Forum in January, Netanyahu said Israelis would need to be vaccinated every year and, at other times, he has mentioned inoculations will be required every six months. A few weeks ago he announced that he placed an order with Pfizer for another 36 million vaccines.
The Health Ministry noted that Israel only has enough doses in stock for the "current round of vaccinations" and that "there is an important need to purchase millions of additional vaccines to prepare for various scenarios."
Pfizer representatives were also frustrated with the delay in securing the funding, according to Army Radio, which reported that the pharmaceutical reps "do not know what to tell their supervisors when they wake up in America."
According to Haaretz, an underlying struggle between the health and finance ministries is taking place:
"The Health Ministry has pushed for expanded procurement of vaccines to give the country a wider cushion of supply, but the Finance Ministry claims that their demands are excessive, profligate and that locking Israel into inflexible contracts would prevent selling excess supply to third countries, while failing to ensure that pharmaceutical firms are obliged to supply future versions of the vaccine that are adapted to deal with variants of the coronavirus."

"The cabinet is due to approve the purchase of more than 30 million doses of coronavirus vaccines from Pfizer, Moderna and from the U.S. firm Novavax at a cost of 3.5 billion shekels ($1 billion), at the request of the Health Ministry. Israel has already purchased more than 25 million doses that have either been supplied or are due to be delivered this year from Pfizer, Moderna and AstraZeneca at a cost of more than 2 billion shekels ($600 million). If the new contracts are signed, Israel will have more than 60 million doses for this year and next, and some may expire before they are used.
More than 5.2 million Israelis age 16 and up have received at least one dose of the Pfizer vaccine in this first round which began on Dec. 20. Some estimate that this is 90% of the eligible population.
All of this fails to take into account that Israel's own biological lab is developing a vaccine against COVID as well.
Toeing the Likud party line, however, Finance Minister Israel Katz said political disputes should not prevent the continued treatment of urgent health and economic issues.
"Investing in vaccines saves lives and enables the economy to move forward. The State of Israel must continue to be the leading country in the world," he said.
The Cabinet meeting may go forward next week in any case.
Nicole Jansezian was the news editor and senior correspondent for ALL ISRAEL NEWS.
A message from All Israel News
Help us educate Christians on a daily basis about what is happening in Israel & the Middle East and why it matters.
For as little as $5, you can support ALL ISRAEL NEWS, a non-profit media organization that is supported by readers like you.
Donate to ALL ISRAEL NEWS
Current Top Stories
Comments