TIMELINE: Months of small sparks led to the explosion we see today
The rockets didn't come out of nowhere; Tensions had been heating up for some time now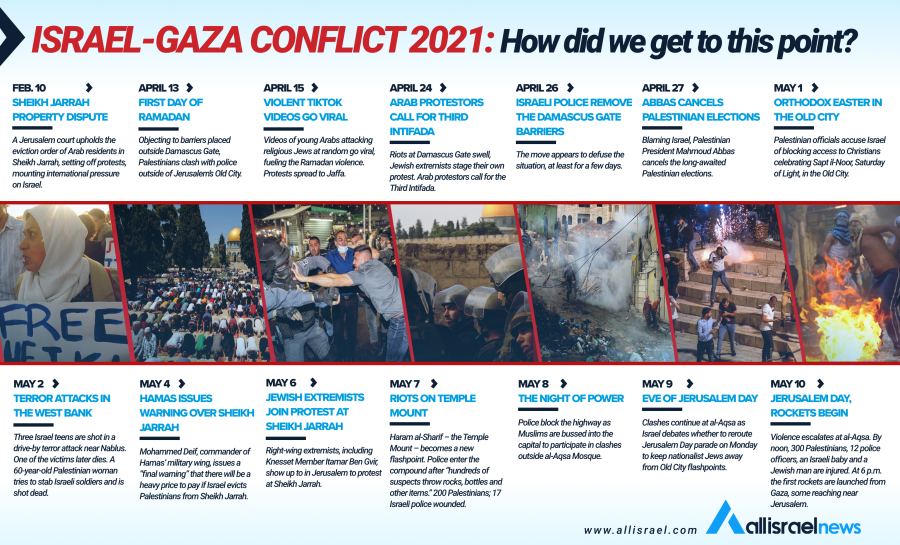 This timeline shows the building up of tensions over the past few months that led to the Israel-Gaza conflict we see today. (Graphic by Liah Lavie)
It may have come as a surprise to the rest of the world when Hamas began furiously launching hundreds – now thousands – of rockets at Israel earlier this week.
But this latest flare up was anything but a spontaneous attack, rather a culmination of simmering tensions between Israelis and Palestinians that had been brewing over the past few months.
What was the straw that broke the proverbial camel's back and set off this kind of deadly confrontation? Any one of the following incidents could have been the match that lit the fire.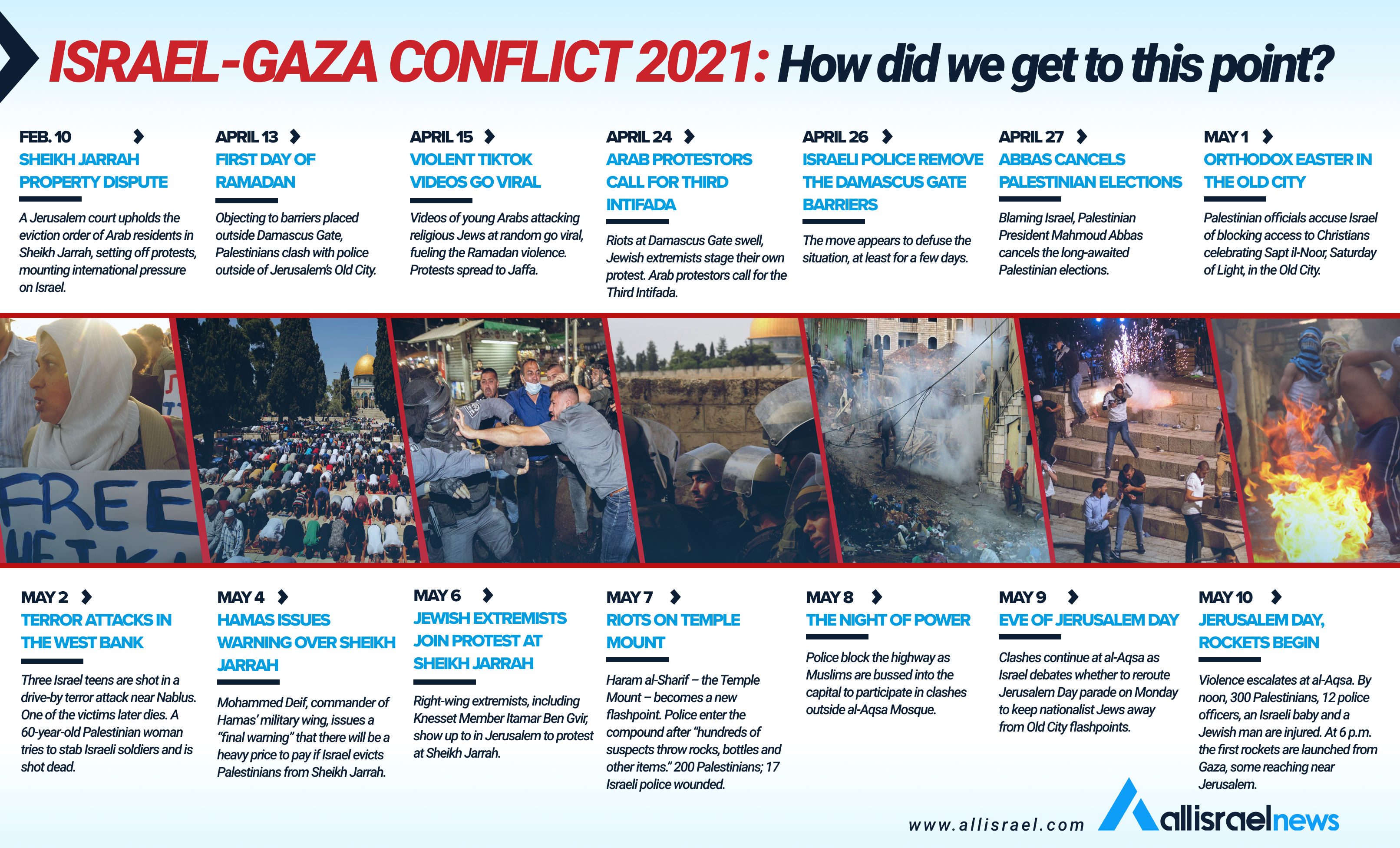 This timeline shows the building up of tensions over the past few months that led to the Israel-Gaza conflict we see today. Click to enlarge. (Graphic by Liah Lavie)
Feb. 10 – Sheikh Jarrah property dispute
Though this issue has been going on for years, the Jerusalem District Court on Feb. 10 upheld a lower court ruling in favor of Israeli claimants to evict Arab residents from Sheikh Jarrah. This ruling appears to be the incident that set the clock ticking. The Arab families facing evictions appealed to the Supreme Court, which then gave the two sides until May to reach an out-of-court settlement.
April 13 – First full day of Ramadan
From the very start of the Muslim holy month of Ramadan on April 13, Palestinians clashed with Israeli police outside of Jerusalem's Old City on a nightly basis. At issue were barriers on the steps outside Damascus Gate erected by police to keep people from congregating. Palestinians typically gather on the stairs outside the Old City's Damascus Gate after evening prayers. Muslims faced off with police – throwing rocks and bottles at officers and chanting support for the al-Aqsa Mosque and for Hamas. The area quickly emerged as the epicenter of the violence and tension throughout the rest of Ramadan.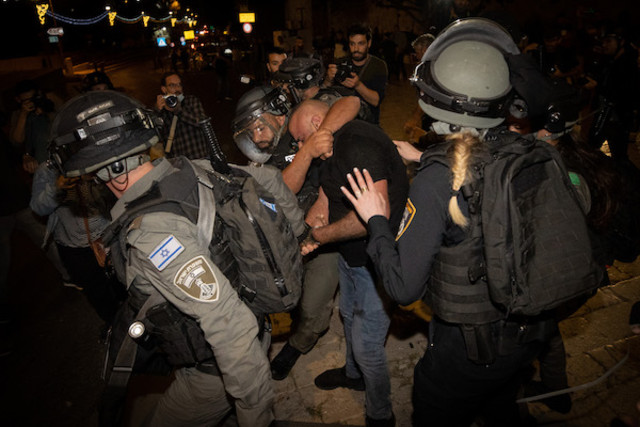 Israeli police officers clash with Arabs outside the Damascus Gate in Jerusalem's Old City, during the holy Muslim month of Ramadan. April 24, 2021. (Photo: Yonatan Sindel/Flash90)
April 15 – Violent TikTok videos go viral
Videos of young Arab men slapping religious Jews at random went viral, fueling the Ramadan violence and provoking far-right Jewish Israelis in Jerusalem and on the streets of Jaffa. One such group, Lahava, led a march of hundreds of protesters chanting "Arabs get out!" toward Damascus Gate. Tensions also flared in Jaffa following an attack on an Orthodox rabbi on Sunday, sparking retaliatory riots and two days of clashes between hundreds of Jewish and Arab Israelis.
April 24 – Arab protestors call for Third Intifada
Dozens of people were injured and arrested as Muslims clashed with Israeli police and Jewish extremists tried to protest against the Muslims throughout the weekend. A 27-year old Jewish Israeli was assaulted by a mob of Arabs while walking his dog. One Arab man interviewed on Channel 12 called for the Third Intifada (uprising). Meanwhile Gaza-based terrorists fired some 36 rockets at Israeli border communities citing the tension in Jerusalem.
April 26 – Israeli police remove the barriers at Damascus Gate 
The move appeared to defuse the situation, at least for a few days. 
April 27 – Abbas cancels Palestinian elections 
Palestinian President Mahmoud Abbas cancelled the long-awaited Palestinian elections for a new legislative council and a new president, scheduled for May 22 and July 31 respectively. Abbas – who has avoided holding elections for 15 years and thus remained president – blamed Israel for not allowing East Jerusalem Palestinians to vote. But rumors had already been circulating that he and his Fatah party feared Hamas was going to win handily this time around as it did in 2006, when the terror organization took over the Gaza Strip. 
May 1 – Orthodox Easter in the Old City, Saturday of Light 
Palestinian Orthodox Christians celebrated Easter and the traditional Holy Fire Ceremony in a gathering at the Church of the Holy Sepulchre in the Old City. Palestinian officials complained that the barricades and checkpoints, set up by Israeli police, blocked access to Christians in the Old City. Some of the encounters resulted in physical altercations. The Jordanian Ministry of Foreign Affairs also accused Israel of impeding freedom of worship for Christians.
May 2 – Terror attacks in the West Bank
Three Israeli teens were shot in a drive-by terror attack at a checkpoint near Nablus. One of the victims, Yehuda Guetta, 19, died of his injuries later in the week. In a separate attack, a 60-year old Palestinian woman tried to stab Israeli soldiers. She was shot and later died of her injuries. Hamas praised the attackers and called on all Palestinians in the West Bank and on Arabs in Israel to escalate terror attacks against Israelis.
May 4 - Hamas warns Israel over Sheikh Jarrah
The commander of Hamas' military wing issued a "final warning" to Israel that if the government tries to evict Palestinians from their homes in East Jerusalem, there would be a heavy price to pay. Mohammed Deif, who has been in hiding for years from Israel, conveyed the message to Israel but also to Hamas militants to be ready to respond.
A Hamas activist holds up a picture of Mohammad Deif. (Photo: Twitter)
May 6 – Jewish extremists join protest at Sheikh Jarrah 
Right-wing extremists including Knesset Member Itamar Ben Gvir show up at Jewish Israeli protest at Sheikh Jarrah, inflaming an already inflammatory situation.
May 7 – Riots on the Temple Mount
Haram al-Sharif – the Temple Mount – became the site of the worst violence up to this point. Police said they entered the compound after "hundreds of suspects started throwing rocks, bottles and other items toward our forces." The Arab High Follow-Up Committee warned: "The aggression of the terrorist occupation army … is a dangerous indicator of what the occupation is planning in the coming days, for the city and al-Aqsa Mosque." Some 17 Israeli police and more than 200 Palestinians were wounded. 
May 8 – Laylat al-Qadr: Ramadan's Night of Power
Clashes continued as Muslims from around the country were bused into the capital. Police blocked the highway, but hundreds of Muslims got off the buses and marched to Jerusalem. U.S. State Department told both sides to exercise restraint: "It is critical to avoid steps that exacerbate tensions or take us farther away from peace. This includes evictions in East Jerusalem, settlement activity, home demolitions, and acts of terrorism."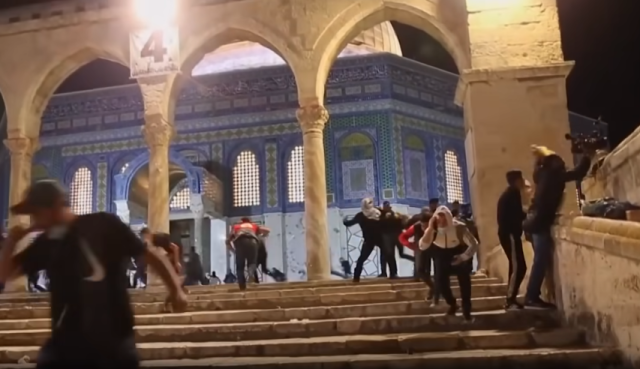 Image: YouTube screenshot
May 9 – Eve of Jerusalem Day
Clashes continued in Jerusalem at al-Aqsa Mosque. Israel debated whether to reroute Jerusalem Day parade for following day. Tensions remained high.
May 10 – Jerusalem Day, rockets begin
Again, violent clashes broke out on the Temple Mount. By noon, nearly 300 Palestinians, 12 Israeli police officers and an Israeli baby who was in a car that came under attack were injured. A video from Israel's Foreign Ministry showed the attacks at the Temple Mount plaza were premeditated: stones and weapons had been stockpiled at al-Aqsa Mosque and in specific areas around the plaza. Another Israeli driver in Jerusalem was almost lynched.
Palestinians had called for all-out war from 6 p.m. if Israeli police did not retreat from the Temple Mount. And at 6 p.m. exactly, the rockets started flying. 
That brings us to where we are now.
Nicole Jansezian was the news editor and senior correspondent for ALL ISRAEL NEWS.
A message from All Israel News
Help us educate Christians on a daily basis about what is happening in Israel & the Middle East and why it matters.
For as little as $5, you can support ALL ISRAEL NEWS, a non-profit media organization that is supported by readers like you.
Donate to ALL ISRAEL NEWS
Current Top Stories
Comments