Israel foils Iranian attempt to recruit spies, arrests 5 Israelis
Iranian officials have repeatedly vowed to wipe the Jewish state off the map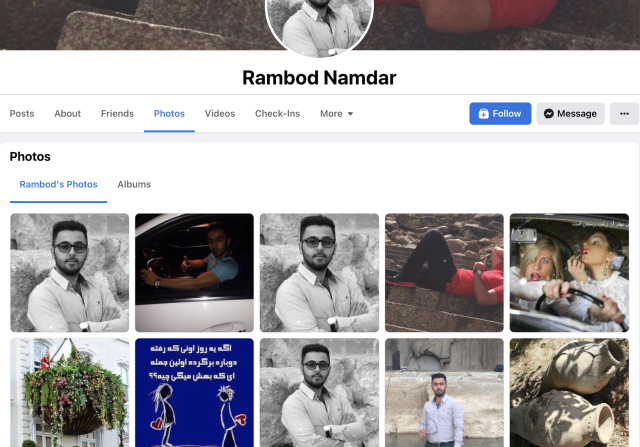 Facebook account used to contact and recruit Israelis to spy for Iran
Israel's internal security organization, the Israel Security Agency (ISA), known in Hebrew as Shin Bet, has arrested five Israeli citizens who had reportedly been recruited by an Iranian intelligence agent for carrying out spying missions against the Jewish state. 
An unnamed senior Shin Bet official stressed the seriousness of the Iranian spying recruitment efforts. 
"This is a serious case, in which there was the intention to establish a spy network for Iran, operating within the State of Israel," said the Shin Bet official. 
Shin Bet's investigation was carried out in cooperation with the Israel Police. The four females and one male suspect are all Israelis of Iranian descent and hail from cities in central Israel including Jerusalem. While Israeli authorities only confirmed the spy story on Tuesday, the suspects have reportedly been in jail for some time, according to the daily Israeli paper Haaretz. 
The Iranian intelligence officer, Rambod Namdar, reportedly contacted the suspects through Facebook, hoping to gain their trust by claiming to be a Jew living in Iran. Namdar never revealed his face to the Israelis, claiming that his phone camera was not working. 
One of the arrested Israelis, a 40-year-old female resident of the Israeli city Holon outside Tel Aviv, reportedly admitted that she and her husband had been in touch with Namdar for several years. While she suspected that he was indeed an Iranian intelligence officer, she still agreed to secretly photograph sensitive sites in Israel, such as the former U.S. Embassy building in Tel Aviv and the interior of the Interior and Social Welfare Ministry, in exchange for money. 
"The investigation revealed that the suspect's husband was aware of her connections with Namdar, and even spoke to Namdar himself, although he suspected that he was an Iranian intelligence agent," said the Shin Bet. 
Another suspect, a 57-year-old Israeli woman, had been in touch with the Iranian recruiter for four years and had been paid $5,000 for different missions. The woman reportedly pressured her son to join the Israeli military intelligence and send classified information to the Iranian recruiter. In addition, the unnamed woman also gathered information on Israelis of Iranian descent by creating an Iranian social club in Israel. The Iranian regime has for years spied on Iranian expat communities around the world in an effort to identify both foes and potential allies. 
Israeli Prime Minister Naftali Bennett praised the Israeli authorities for successfully thwarting the alleged Iranian spying recruitment attempt.  
"I congratulate the Israel Security Agency and the Israel Police on a successful operation that prevented terrorist activity against the State of Israel. The State of Israel is in an ongoing campaign with Iran. It is clear: We see never-ending efforts and attempts by the Iranian Revolutionary Guard Corps to recruit Israeli citizens," said Bennett. 
The Israeli prime minister stressed that the Iranian regime's interference in Israeli society extended beyond intelligence and security. 
"These attempts go beyond security and intelligence; they are expanding to efforts to influence the citizens of Israel and Israeli society, sow discord and polarization, undermine political stability in Israel and damage the public's trust in the government. I call upon Israel's citizens to be cautious of these attempts. It is possible that behind the information that you consume or share on social media are the Iranians. Have no doubt – the long arm of the security establishment will catch up with anyone who tries to harm Israel's security," stated the prime minister. 
Approximately 250,000 Israelis are of Iranian Jewish descent and are concentrated in and around the city Holon, close to Tel Aviv. While Israeli citizens are currently banned from visiting Iran, many Israelis of Iranian descent seek to preserve their Iranian Jewish cultural heritage. The recent popular Israeli thriller TV series "Tehran" featured a plot involving Israeli Mossad agents of Iranian descent spying for the Jewish state by infiltrating sensitive sites in the Iranian capital Tehran. The series was praised for its nuanced view of Iran's complex society and much of the dialogue was in Persian. 
Iranian officials have repeatedly vowed to wipe the Jewish state off the map. If convicted for treason, the arrested spying suspects could face many years in jail. 
A message from All Israel News
Help us educate Christians on a daily basis about what is happening in Israel & the Middle East and why it matters.
For as little as $5, you can support ALL ISRAEL NEWS, a non-profit media organization that is supported by readers like you.
Donate to ALL ISRAEL NEWS
The All Israel News Staff is a team of journalists in Israel.
Explore Our Exclusive Videos on YouTube
Popular Articles
Comments
More Recent Articles