Is the Turkish foreign minister's visit to Israel another sign of warming ties between the two countries?
Turkey's weak economy or its desire for improved relations with the U.S. may be the impetus behind Turkey's "charm offensive" but Israel has much to gain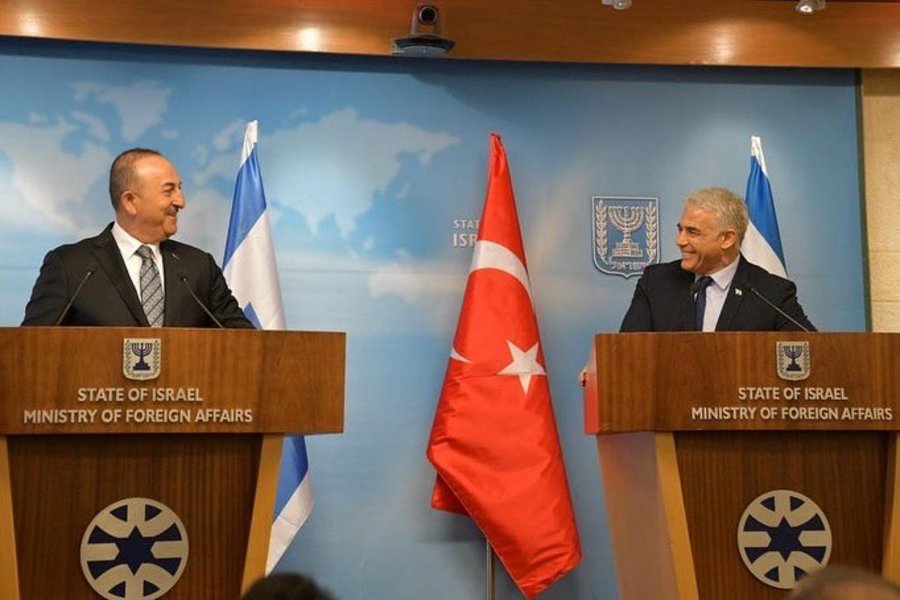 Turkish Foreign Minister Mevlüt Çavuşoğlu and Israeli Foreign Minister at a joint press conference in Jerusalem, May 25, 2022 (Photo: Yair Lapid's Twitter feed)
Turkey's foreign minister made an official visit to Israel last week, marking the first time a Turkish top diplomat has visited the Jewish state in 15 years.
The visit by Turkish Foreign Minister Mevlüt Çavuşoğlu is another signal that the Turkish government is taking steps forward to improve its strained relations with Jerusalem.
Israeli Foreign Minister Yair Lapid and his Turkish counterpart on Wednesday announced two new steps in the gradual diplomatic reconciliation process between Turkey and Israel.
"We agreed to relaunch our Joint Economic Commission and to begin working on a new civil aviation agreement between our countries," stated Lapid.
Prior to the collapse of diplomatic ties between Ankara and Jerusalem, Turkey used to be a favored tourist destination for many Israelis. The new aviation agreement is expected to reopen the Turkish market to Israeli airline companies. And, in a reciprocal move, Turkish Airlines has already successfully emerged as the second largest airline company operating in the Jewish state, just after the flag carrier of Israel, El Al Airlines.
Lapid noted that many Israelis enjoy traveling to Turkey, when he said to Çavuşoğlu, "Beyond diplomacy, Mr. Minister, Israelis simply love Turkey."
And while Turkey has been making advances toward improved relations with Israel for the past year, the Israeli government is responding to Turkey's "charm offensive" with cautious optimism.
Lapid described a mutual plan to expand bilateral economic cooperation between Turkey and Israel.
"The goal is to form and expand economic and civil cooperation between our countries, to create business-to-business and people-to-people ties, and to leverage our two countries' comparative advantages regionally and globally," said Lapid.
However, Lapid and Çavuşoğlu have not yet announced the return of each countries' respective ambassadors to the embassies in Ankara and Tel Aviv. Instead, the two regional powers are allegedly focusing on strengthening and expanding the financial ties before upgrading the diplomatic ties, with Lapid noting that Turkish-Israeli ties are complex and have gone through difficult periods.
"We won't pretend that our relationship has not seen its ups and downs," admitted Lapid, "but we remember that Turkey was the first Muslim nation to recognize Israel back in 1949. And we have always known how to return to dialogue and cooperation."
For example, incumbent Turkish President Recep Tayyip Erdoğan has systematically presented himself as a defender of the Palestinian Arab cause and has frequently expressed extremely hostile views of Israel and the Jewish people. Consequently, the Turkish government has justified its interest in improving ties with Israel by stating that such an arrangement would benefit the Palestinian Authority.
"We believe that normalization of our ties [with Israel] will also have a positive impact on the peaceful resolution of the conflict," affirmed Çavuşoğlu from Jerusalem.
However, some speculate that Turkey is turning on the charm toward Israel because of its current weak economy and Ankara's pragmatic realization that improved ties with a powerful Jewish state is very much in Turkey's own best interests.
In February, Erdoğan stated that Turkey was interested to cooperate in facilitating gas exports from Israel to the European market.
"We could use Israeli natural gas in our country and, beyond that, we could also work together to carry it to Europe," said Erdoğan.
Turkey's charm offensive in Jerusalem  coincides with current strained relations with the United States and could be part of a wider strategy to improve its diplomatic ties with Washington.
U.S. President Joe Biden's administration reacted negatively to Turkey's announcement that it could invade Syria in order to create a "safe zone" against Kurdish forces in the border region between Turkey and Syria. Since Kurdish forces are considered pro-American, such a move may further undermine Turkish-American ties.
"It's going to certainly strain Turkish-U.S. relations," said Berk Esen, a Turkey expert and fellow at the German Institute for International and Security Affairs. "This is only going to worsen things."
However, at the same time, Turkey's Islamist government has systematically tried to undermine Israel's sovereignty in East Jerusalem and increase Turkish influence over Jerusalem's Muslim sites.
"Al-Aqsa Mosque is in the prayers of the Turkish nation. We have openly expressed Turkiye's sensitivity toward Jerusalem and Masjid al-Aqsa to the Israeli side," said Çavuşoğlu during his visit to the Temple Mount.
Meanwhile, an Erdoğan-controlled Turkish judiciary recently released 29 Turkish Hezbollah terrorists, according to the regime's critical newspaper, Sözc.
Turkish journalist and regime critic, Uzay Bulut, believes the Erdoğan regime still supports radical Jihadist terrorist groups, leading some to speculate if Turkey will become a close ally of Israel or the U.S. anytime soon.
"The Turkish judiciary system's release of mass murderers who acted on behalf of Turkish Hezbollah should be understood as part of the Turkish government's broader support for jihad terrorist organizations. Hamas, for instance, counts Turkey as an ally," Bulut recently told The Jerusalem Post.
The All Israel News Staff is a team of journalists in Israel.
A message from All Israel News
Help us educate Christians on a daily basis about what is happening in Israel & the Middle East and why it matters.
For as little as $5, you can support ALL ISRAEL NEWS, a non-profit media organization that is supported by readers like you.
Donate to ALL ISRAEL NEWS
Current Top Stories
Comments