IRAN NUCLEAR CRISIS WORSENS: Tehran could build nuclear bomb in 'three weeks,' top nuclear scientist warns
Mossad chief vows Israel will 'do what is needed' to 'thwart' Iran from getting The Bomb, raising prospect of an Israeli preemptive strike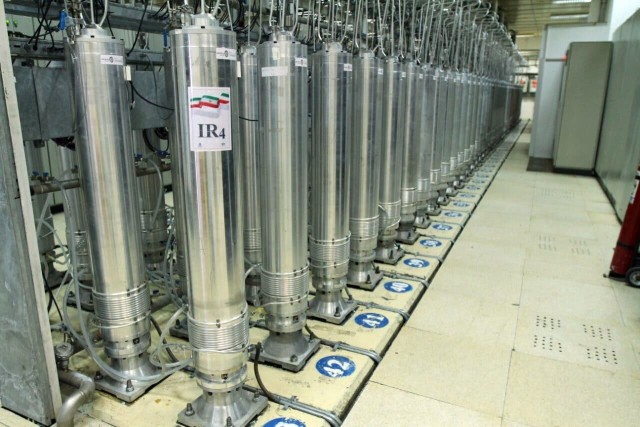 Centrifuges used to enrich uranium at Iran's nuclear fuel plant in Natanz. (Photo: Atomic Energy Organization of Iran)
SAN DIEGO, CALIFORNIA—As a new round of diplomatic negotiations with Tehran got underway in Vienna this week, a chilling new report by a leading nuclear scientist concludes that the Iranian regime is now in a position to build its first nuclear bomb in just a few weeks.
Yet the new head of the Mossad – Israel's legendary spy agency – vows that the Jewish state will never allow the Iranian regime to become a nuclear armed power. 
The combination – together with the Biden administration's apparent determination to cut almost any kind of deal with Tehran – is yet again raising the prospects of an Israeli first strike on Iran's nuclear facilities. 
"Iran will never have a nuclear weapon, not in the coming years, not ever, that's my commitment, that's the commitment of the Mossad," Mossad Chief David Barnea said Thursday.
"Iran strives for regional hegemony, operates the same terrorists that we're tackling every day worldwide, and continuously threatens the stability of the Middle East," Barnea noted.
"Therefore our eyes are wide open, we're ready, and we'll act with our colleagues in the defense establishment to do what is needed to distance the threat to the State of Israel, and thwart it in any way."
THREE WEEKS TO THE BOMB?
Barnea's comments come as David Albright – the world-renowned and highly-trusted nuclear physicist – says Iran is closer than ever to building fully operational nuclear weapons. 
Albright is the founder and president of the Institute for Science and International Security in Washington, D.C. and often testifies before Congress on issues of nuclear weapons and proliferation.
In a report just published with two of his colleagues – analyzing official United Nations data of the IAEA – Albright warns that "Iran is effectively breaking out slowly by producing 60 percent enriched uranium and continuing to accumulate it."
"Iran has enough enriched uranium hexafluoride (UF6) in the form of near 20 and 60 percent enriched uranium to produce enough weapon-grade uranium (WGU), taken here as 25 kilograms (kg), for a single nuclear weapon in as little as three weeks," the report states.
"It could do so without using any of its stock of uranium enriched up to 5 percent as feedstock. The growth of Iran's stocks of near 20 and 60 percent enriched uranium has dangerously reduced breakout timelines," Albright and his co-authors note.
"Iran could continue producing more weapon-grade uranium, using its substantial stock of uranium enriched between two and five percent," they added.
"In just over two months after the commencement of breakout, Iran could have produced enough additional WGU for a second weapon. After about 3.5 months, it would have enough for a third weapon. The additional production of enough WGU for a fourth weapon would be slower, taking six months, reflecting the depletion of Iran's pre-existing stocks of enriched uranium."
They further note that "Iran appears to have continued producing near 20% enriched uranium metal, although the IAEA does not provide details in its latest report. Despite Iran's claims of civil use, uranium metal is a key material in nuclear weapons. Iran's move to create the wherewithal to make uranium metal as well as making the metal itself is concerning because Iran is both instituting a nuclear weapons capability and increasing its knowledge and experience in this key area."
MOSSAD CHIEF WARNS AGAINST CUTTING A BAD DEAL WITH IRAN 
Barnea said that a "bad" deal between Iran and the world power will be intolerable, reported Ynet news.
"The top spy said there was no need for any country to have three nuclear sites able to enrich uranium to 60%, for anything other than military purposes and the production of a nuclear weapon," Ynet noted. 
ISRAELI PM WARNS IRAN ENGAGED IN "NUCLEAR BLACKMAIL"
"Earlier Thursday, Prime Minister Naftali Bennett urged world powers to halt nuclear talks with Iran immediately, citing a UN watchdog's announcement that Tehran has started producing enriched uranium with more advanced centrifuges," the Ynet report stated.
"Iran is carrying out nuclear blackmail as a negotiating tactic, and this should be answered by the immediate halt to negotiations and the implementation of tough steps by the world powers," Bennett told U.S. Secretary of State Tony Blinken.
GROWING TALK OF AN ISRAELI FIRST STRIKE
As I reported on Nov. 28, a growing number of senior and highly respected formal Israeli security and intelligence officials are talking openly. 
Yossi Cohen, the former Mossad chief, said recently that "independent strikes on nuclear sites, if Iran takes this path that endangers our existence, should and must be on the table – unequivocally."
Yaakov Amidror, Israel's former national security advisor, went even further.
"Israel cannot live with a situation in which the Iranians are getting closer and closer to the bomb, and it will soon have to make a decision how to stop it," Amidror told the BBC in November.
"I don't see any other way but to bomb [Iran's facilities], because I don't see the Iranians retreating from their dream of having a nuclear umbrella under which they can be even more aggressive than they are today," he added.
Joel C. Rosenberg is the editor-in-chief of ALL ISRAEL NEWS and ALL ARAB NEWS and the President and CEO of Near East Media. A New York Times best-selling author, Middle East analyst, and Evangelical leader, he lives in Jerusalem with his wife and sons.
A message from All Israel News
Help us educate Christians on a daily basis about what is happening in Israel & the Middle East and why it matters.
For as little as $5, you can support ALL ISRAEL NEWS, a non-profit media organization that is supported by readers like you.
Donate to ALL ISRAEL NEWS
Current Top Stories
Comments