First tourists couldn't come in, now they can't get out: 10 tourists in a Bible-translator group find themselves in a different sort of accommodation – a 'corona hotel'
Despite their unexpected bout with COVID and quarantine in Israel after a three-week tour, Australian group members look at the bright side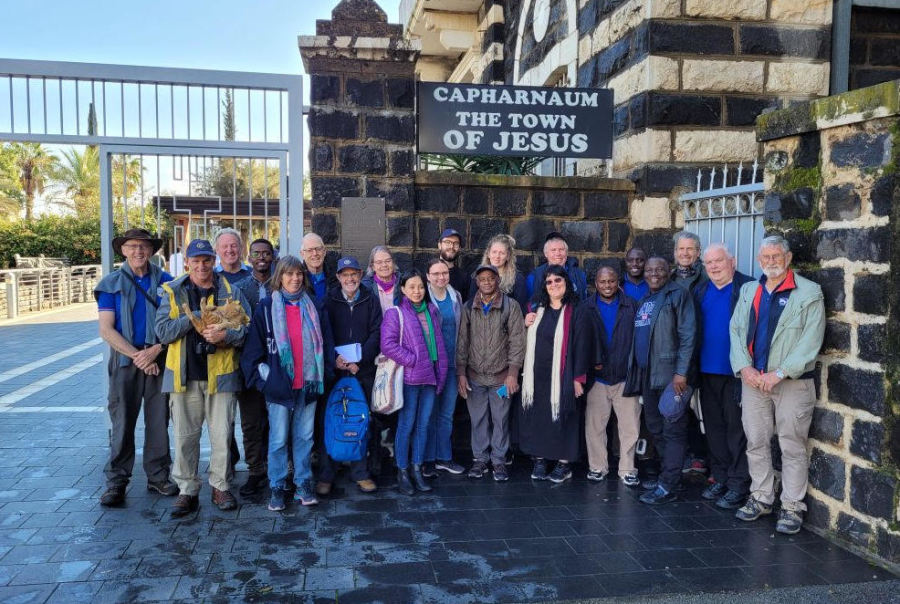 Wycliffe Australia Israel Study Tour 2022 (Photo courtesy)
JERUSALEM—A new phenomena has developed here in the Holy Land: Tourists are finding it hard to leave.
Literally.
With Israel registering its highest numbers of infections in January since the pandemic began nearly two years ago, it was only a matter of time, experts said, until a majority of the country would catch the virus.
Tourists to the Holy Land were, apparently, not exempt.
No one, it seemed, was going to escape Omicron – the variant supposedly rampaging through Israel since late November. Vaccinated, unvaccinated alike faced off with the virus as Israel became the world leader in per-capita infections – registering more new cases in January alone than all of 2021.
At the same time, the government decided to reopen the borders to tourism early in January under strict conditions including up-to-date COVID vaccinations (meaning within the last six months), negative PCR tests and approval from the Ministry of Health for each tourist.
The tourists are now coming back, but the limited influx so far means that they have many sites and even hotels to themselves. Groups travel as a "capsule" of sorts and have limited contacted with locals. Largely because of that and prior to Omicron, not a single tourist tested positive for the coronavirus while visiting Israel.
But Omicron has changed that. Some in the industry report that they have at least one tourist per group that is left behind due to a positive PCR test at some point during their trip.
The Wycliffe Australia Israel Study Tour 2022, however, may have set a new record when 10 of the original 20 on the trip all found themselves positive for COVID-19 after a mandatory PCR test prior to flying out.
That meant a five-day quarantine and then several more days waiting for the few-and-far-between flights out of the Holy Land.
Keith Benn, a senior translation consultant for Summer Institute Linguistics (SIL), spoke to ALL ISRAEL NEWS from his "corona hotel" room and offered a bright side to this predicament, even after five full days of isolation.
[LISTEN TO FULL INTERVIEW ON THIS PODCAST: Holy Land Hotel California? You can check in, but...]
"The challenges have actually made the trip better not worse," he said. "An easy trip is not necessarily the best trip."
"In fact, it's been good being in hotel quarantine – we've been able to recover, we've been able to thing back over what's happened in the last three weeks; we've been able to share and pray together and we're leaving here with a medical certificate saying we've recovered from coronavirus. So there's been a lot of positives with the hotel quarantine."
The situation could have been far worse. Benn noted that had anyone tested positive while feeling symptoms along the way end: one team member would have been left in isolation in Bethlehem; two or three in Nazareth; three or four more in Tiberias and then a few more in Jerusalem.

That scenario would have been a "complete disaster," creating a sense of anxiety and rejection for some of the group, Benn said.
Instead, the group got to stick together – in a way.
"You're not allowed to leave your room, you're not allowed to pass things from room to room," Benn said, among other things at the risk of a 5,000-shekel fine.
Five days at the Dan Panorama in Jerusalem did get lonely – if not feel like outright detention – another group member, Peter Brown, said. But he put his Zoom account to good use for virtual gatherings with the lot stuck in the hotel. The groups met daily to keep each other encouraged during that time.
And they tried hard to keep themselves entertained. Sean Kluyts – who normally runs marathons – tried to manage a 2-kilometer run in the hotel room. It didn't quite transpire. Keith Bell, a retired Presbyterian pastor, tuned in to his home church's service, which was midnight in Israel.
After their release from the quarantine facility, the 10 moved to the Austrian Hospice in Jerusalem's Old City to await their flights out. With tourism being slow for so long, flights are fewer and the wait is longer.
ALL ISRAEL NEWS spoke with the group at the roof terrace of the Old City hostel as the Muslim call to prayer and a construction site competed loudly in the background.
Despite their unexpected challenge at the end of the trip and many of them needing to get back home to family and jobs, they all said they would do it again if they had to choose. Steve Baum described his amazement at the unique geography of the land and its ancient history, which goes back centuries unlike his native Australia.
Margaret Peters said the challenges of travel were not daunting to her. In fact, it was worth the life-changing revelations they picked up as their tour guide and other experts described the various biblical sites. She recounted the wonder of a group member from Africa who had been translating the Bible into his own language for years but on this trip saw an Israeli fig tree – different from those in his country – and pomegranates for the first time.
The whole team consisted of four Tanzanian trainee translation consultants, one Kenyan trainee translation consultant, one Filipino translation consultant and 14 Australians. The trip is designed to help Australian Christians understand the great need for Bible translation around the world and to give national translation consultants and trainees an opportunity to see the Holy Land, to help them in their work of Bible translation.
Benn said that of the 7,500 estimated world languages – 6,000 do not have an Old Testament translation and 4,000 do not have a New Testament.
While most tourists say that the Bible comes to life when coming to the Holy Land, that same impact can serve to transform biblical language for a translator – literally bringing the Word of God to life.
Benn said this happened to him with the Parable of the Sower. The story makes little sense in flat Australia where farming looks different. But when the tour guide showed them the tiered, rocky soil of the land in Israel and how those levels were transected by paths on which these seeds would have been thrown, Jesus' words were illuminated in real life.
"He showed us the path, the rocky soil," Benn said. "It was so obvious these seeds would dry up."
With this sort of revelation, and undeterred by their challenges, Wycliffe is boldly booking a return trip in January 2023.
Nicole Jansezian was the news editor and senior correspondent for ALL ISRAEL NEWS.
A message from All Israel News
Help us educate Christians on a daily basis about what is happening in Israel & the Middle East and why it matters.
For as little as $5, you can support ALL ISRAEL NEWS, a non-profit media organization that is supported by readers like you.
Donate to ALL ISRAEL NEWS
Current Top Stories
Comments