Israel's education minister opposes COVID shots for kids at school – and incurs the wrath of the government, media
Yifat Shasha-Biton castigated as "anti-vax" and a "corona denier" by politicians and media alike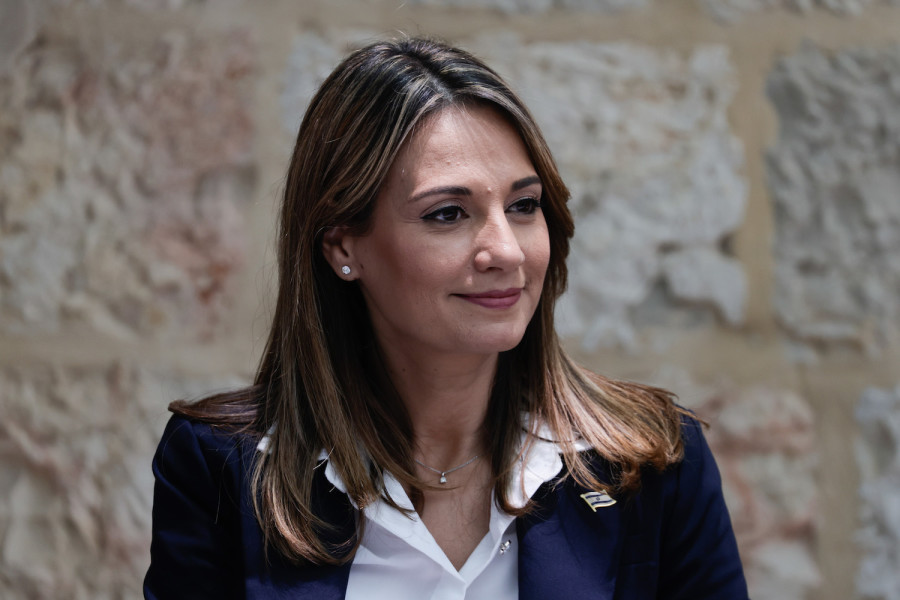 Newly appointed Minister of Education, Yifat Shasha-Biton at a ceremony for replacing of minister, held at the Education Ministry in Jerusalem on June 14, 2021. (Photo: Olivier Fitoussi/FLASH90)
The long knives are out for Education Minister Yifat Shasha-Biton as the very thing she has repeatedly criticized about the government's handling of COVID has turned on her: hysteria.
As former head of the coronavirus cabinet, Shasha-Biton was regarded by the public as an advocate – perhaps the only one – for business owners and schoolchildren. She questioned recommendations by health ministers and former Prime Minister Benjamin Netanyahu demanding that officials provide justification before she voted on mask mandates and harmful lockdowns that kept kids at home and businesses shuttered for months.
ALL ISRAEL NEWS named Shasha-Biton No. 7 of top 21 Israelis to watch in 2021.
Now, as education minister in the new government – a position for which she is highly qualified with a Ph.D. in Education and vast experience in the field – Shasha-Biton is still advocating for what she believes is in the best interests of students.
"The role of the Ministry of Education is to educate and give children an optimal educational environment," she wrote on her Facebook page. "Children have been facing emotional distress from the past year and we must not put further social pressure on them in the educational framework."
Shasha-Biton opposes administering the COVID-19 vaccine at schools during the upcoming school year which begins Sept. 1.
And by saying so, she has veered off the party line.
Only one party line exists in the Israeli government: COVID vaccines for all. This position is virtually unquestioned. Widespread acceptance of and compliance with COVID vaccination among the public has propelled Israel to lead the globe in not just vaccination rates, but also in offering the injection to previously untested demographics.
Shasha-Biton herself is vaccinated and has never uttered a word against the shot.
But in a TV interview she said: "Anyone who can, go out and get vaccinated, but doing so at school is a crime, in my opinion."
For this she has been excoriated by fellow politicians and the media, and has lost all credibility among the Israeli establishment.
"A scary, and dangerous thing to say," former director-general of the Health Ministry Moshe Bar Siman-Tov tweeted on Wednesday.
She also faced attacks from an unnamed minister who called her a "corona denier" – an insult right up there with "anti-vaxxer."
"Two million Israeli school children are being held captive by a corona denier," the minister was quoted as saying to Channel 12. "Refusing to vaccinate in schools? Has she gone mad?"
One pundit said she "showed herself to be nothing more than a delusional anti-vaxxer."
"It's hard to believe that a well-educated minister such as Shasha-Biton could believe in these absurd conspiracies," Sarit Rosenblum wrote in Ynet.
Children currently receive other vaccines, including the flu shot, during the school year, but Shasha-Biton said she would not do the same with the controversial COVID vaccines in order to prevent bullying of children whose parents don't want them getting vaccinated.
"We would put the children in an impossible situation. With all our desire to overcome the virus, we know that the vaccine is effective and efficient… [but] we need to see how to do it correctly," she said in a Channel 12 interview.
For expressing a hint of hesitancy, not toward the vaccine itself, but whether it should be administered by the education system, Shasha-Biton has placed a target on her back.
And she probably won't last long in the government.
Consider the tepid support she received when the media reported her sharp disagreements with Director of Public Health Sharon Alroy-Preis. Shasha-Biton's own party head, Gideon Sa'ar of New Hope, said "we don't see eye to eye on everything. You need to know how to take differing positions within a government."
And Prime Minister Naftali Bennett issued a statement of support, not for his Cabinet minister, but for Alroy-Preis, lavishing praise on the health official who has not been popular with the public over the past year of the pandemic.
The politicization of COVID in the Israeli government and its one-sided nature has been cemented into the system and, now, the education department is in danger of losing the most qualified minister it has had in the last several governments.
Nicole Jansezian was the news editor and senior correspondent for ALL ISRAEL NEWS.
A message from All Israel News
Help us educate Christians on a daily basis about what is happening in Israel & the Middle East and why it matters.
For as little as $5, you can support ALL ISRAEL NEWS, a non-profit media organization that is supported by readers like you.
Donate to ALL ISRAEL NEWS
Current Top Stories
Comments