Defense Minister Benny Gantz, reaching out to Israeli Arab Christians, visits Haifa church, names Arab Christian woman to Blue and White slate
"My mother was liberated from Bergen-Belsen by Christian troops and I would not be here today if it were not for them, so I feel personally invested in this community feeling included, represented and heard," Gantz tells ALL ISRAEL NEWS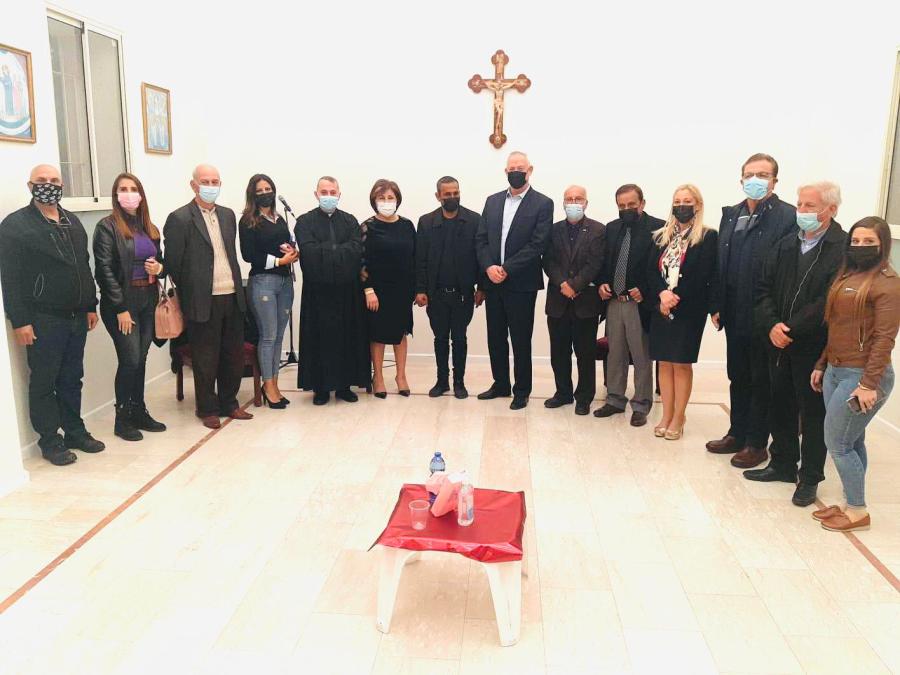 Father Joseph Yaakov hosted Defense Minister Gantz at his church in Haifa. (Photo: Blue and White)
JERUSALEM – On Feb. 28, I wrote a column for ALL ISRAEL NEWS asking: "Why aren't Israeli political parties actively courting Israel's 200,000 Christians ahead of the March 23 elections?"
"They should," I wrote, adding they should also promise "to appoint an ambassador to the Christian World and establish a Commission on Religious Freedom and Minority Affairs."
A few days later, a senior Blue and White campaign advisor told me that Defense Minister and Alternate Prime Minister Benny Gantz has, in fact, been quietly but consistently reaching out to Israeli Christians during this election, as well as in the last.
Last Wednesday evening, Gantz visited a Maronite church in Haifa, meeting with the priest and a small group of Arab Christians for about an hour and a quarter.
Due to COVID limits, only 10 people total were in the meeting.
In the previous campaign, Gantz traveled to Nazareth to meet and chat with many Arab Christian leaders.
In this round, Gantz asked Ilham Khazen, a 55-year old Arab Christian businesswoman from the Western Galilee region, to run on the Blue and White slate of candidates.
Last December, Khazen made headlines by becoming the first Israeli-Arab Christian woman to announce her candidacy for president of Israel. 
The current president, Reuven Rivlin, will finish his seven-year term this summer and the Knesset will elect a new head of state.
The church in Haifa that Gantz visited is the home congregation of Khazen.
Father Joseph Yaakov hosted Defense Minister Gantz at his church in Haifa. (Photo: Blue and White)
"This was not just another event on the campaign trail," Gantz told ALL ISRAEL NEWS. "Visiting the Maronite Church in Haifa was about conveying the importance that Blue and White attributes to inclusiveness and equality in Israeli society, of which the Christian community is an integral part."
"My mother was liberated from Bergen-Belsen by Christian troops and I would not be here today if it were not for them, so I feel personally invested in this community feeling included, represented and heard," Gantz said.
"I am very proud to have Ilham Khazen, the first Christian Arab woman to ever run for the presidency of Israel, on the Blue and White slate," he added. "She is living proof of Israel's diversity and of the importance of representation. Blue and White will continue working to promote the values of equality and inclusion across Israel."
I also spoke with Ruth Wasserman Lande, a member of Knesset from the Blue and White party, about Gantz's outreach to Israeli Christians. 
"Last year, I personally organized Gantz's visit to Nazareth where he met representatives of a myriad of Christian churches," she told me. "This year, of course, it's difficult to visit churches – or almost anywhere, really – because of all the COVID restrictions."
"But Benny Gantz wanted to visit a church," the MK noted. "He wanted to meet with Israeli Christians and hear their concerns because that's who he is."
"He's very inclusive. He's very accepting of people from different backgrounds and religious beliefs. He believes that we are all created in the image of God. Everyone is born equal. And that's why he's a believer in interfaith relations. These are definitely the values he believes in. This is also the reason why he appointed a Christian Arab candidate on the party list, Ms. Ilham Khazen."
"For the first time in the history of Israel, an Arab businesswoman announced her intention to run for the presidency to succeed the current Reuven Rivlin, whose term will end in July 2021," the Arab satellite TV channel Asharq Al-Awsat reported in December. 
"Ilham Khazen, a resident of the Arab town of Ba'nah, in the Western Galilee region, said: 'This door has been closed to the Arab community for a long time, and the time has come to open it so that Arab citizens of Israel participate in the highest levels of political action, decision-making positions and influence.'"
"Khazen believes in peace and resolving conflict in the region through the establishment of a Palestinian state alongside Israel," the TV network also reported, adding that "Khazen, 55, is a businesswoman and a mother of five children and grandmother to two grandchildren. She owns a group of pharmacies and a medical center in Sakhnin."
That said, Khazen is number 13 on Gantz's slate and thus is not likely to enter the Knesset this time. Most polls indicate that Blue and White will only win between four and six seats on March 23.
Joel C. Rosenberg is the editor-in-chief of ALL ISRAEL NEWS and ALL ARAB NEWS and the President and CEO of Near East Media. A New York Times best-selling author, Middle East analyst, and Evangelical leader, he lives in Jerusalem with his wife and sons.
A message from All Israel News
Help us educate Christians on a daily basis about what is happening in Israel & the Middle East and why it matters.
For as little as $5, you can support ALL ISRAEL NEWS, a non-profit media organization that is supported by readers like you.
Donate to ALL ISRAEL NEWS
Current Top Stories
Comments