ALL ISRAEL NEWS editor Joel C. Rosenberg provides U.S. election night analysis for i24 News
Now what? Can America's 'cultural schizophrenia' be healed? How would Biden treat Israel, Iran, if he wins?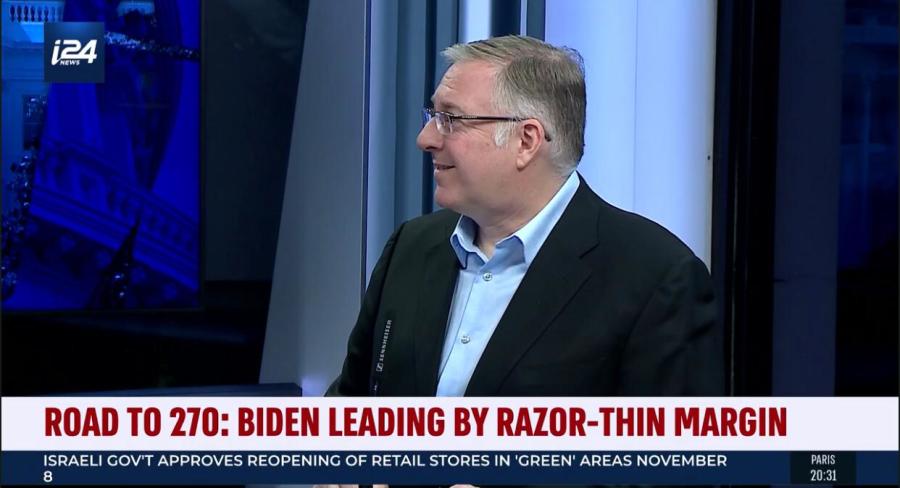 Photo: Screenshot i24 News
JERUSALEM -- Whatever the eventual outcome of the U.S. presidential and Congressional elections, the results have shown one thing for certain: America is deeply divided.
A Biden-Harris presidency would be based on completely different values and ideological convictions that would sharply change US domestic and foreign policy objectives, particularly in the Middle East.
That was the assessment of All Israel News founder and Editor-in-Chief Joel C. Rosenberg who appeared on a panel on Israel's i24 TV news network in Tel Aviv-Jaffa to analyze the US elections.
"What would a defeat of Donald Trump mean for the Evangelical community?" asked i24 anchor Calev Ben David. He also asked what a Biden victory would mean for Middle East policy.
"It would be devastating if Joe Biden and Kamala Harris win to Evangelicals broadly," Rosenberg said. "Whether it's devastating to Israel and the peace process is something that we are all very interested in, because we want peace, we want security."
"I don't think [a Biden victory] will be so devastating [to Israel] unless Biden -- one of the co-architects of the Iran nuclear deal -- starts moving back in the direction that unnerves Israeli leaders and Sunni Arab leaders, both of which have come together because they hated that Iran deal so much."
Is there hope for bringing America together? the anchor later asked.
"There is hope," Rosenberg said. "I believe in hope, both as a Jew, and as an Evangelical. But I will tell you, it's a schizophrenic nation right now. There are two sides of the American nation looking at each other going, 'I don't know who you are. I don't know what you believe.'"
Rosenberg noted that the lack of the "blue wave" universally predicted by the mainstream media, and a still too-close-to call election, have made it clear that half of Americans are looking at the other half of their fellow citizens without understanding where they are coming from.
The country, he said, is experiencing "cultural schizophrenia," lurching back and forth between liberal and conservative political philosophies that have completely contradictory values and ways of addressing the nation's problems.
Rosenberg's exchange with Rabbi Rachel Kahn-Troster, speaking from New Jersey, addressed that very point.
"President Trump is a symptom of what ails us as a society," the Rabbi said, arguing that American Jews voted overwhelmingly for former Vice President Joe Biden and had soundly rejected Trump's "white nationalist agenda."
"Donald Trump does not reflect the values of the American Jewish community as a whole."
Rosenberg rejected the allegation that Trump has a racist "white nationalist" agenda or is an "anti-Semite," calling the charges "nonsense."
He noted, for example, that Trump has been immensely support of the Jewish State of Israel and that this is why Israeli Jews are so supportive of Trump, even though American Jews are so deeply opposed to Trump.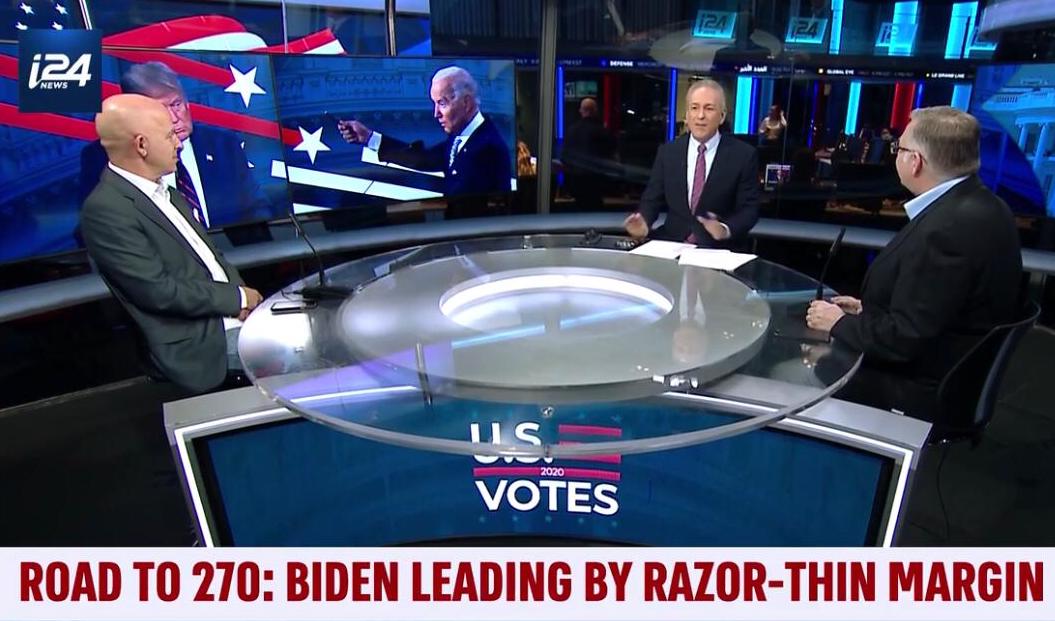 Photo: Screenshot i24 News
Rosenberg pointed out that polls have shown that some 70 percent of Israeli Jews have been hoping for a Trump win.
"Israeli Jews overwhelmingly support President Trump and, therefore, you see a strange dynamic where American Evangelicals and our values are matching more closely with Israeli Jews," he said.
But can this divide between Americans be bridged? Watch the full video here and find out what the panelists have to say.
The All Israel News Staff is a team of journalists in Israel.
A message from All Israel News
Help us educate Christians on a daily basis about what is happening in Israel & the Middle East and why it matters.
For as little as $5, you can support ALL ISRAEL NEWS, a non-profit media organization that is supported by readers like you.
Donate to ALL ISRAEL NEWS
Current Top Stories
Comments