ALL ISRAEL NEWS – ONE YEAR ANNIVERSARY
BLINDSIDED: Biden is being blindsided by radical Islam – and Americans are paying with their lives
On the one-year anniversary of ALL ISRAEL NEWS, the Washington Times has published my op-ed on Biden's unacceptable lack of understanding of radical Islam – and which Middle East leaders he should turn to for advice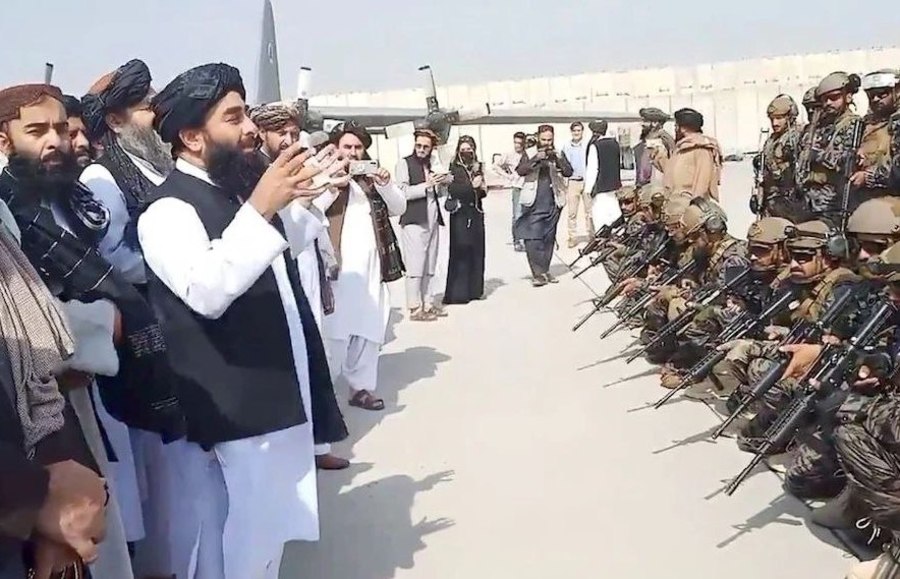 Taliban spokesman Zabihullah Mujahid speaks to Badri 313 military unit at Kabul's airport following the Taliban takeover, Aug. 31, 2021. (Photo: Twitter)
WASHINGTON, DC – Today is the one-year anniversary since my Israeli and Palestinian colleagues and I launched ALL ISRAEL NEWS and ALL ARAB NEWS.
And what a year it has been.
War in Gaza. The explosion in Beirut. Four Arab-Israeli peace agreements. The American surrender of Afghanistan. The fall of Trump. The fall of Netanyahu. The rise of Biden. The rise of Bennett.
It certainly has not been a slow news year. And through it all, we've been not only reporting the news and doing exclusive interviews with major newsmakers, but providing analysis and context to help our readers understand both what's happening and what it all means.
Today, as our staff and board celebrate our one-year anniversary, I'm so grateful that the Washington Times has published an op-ed I have written, drawn from my forthcoming book, "Enemies and Allies," which releases next Tuesday, Sept. 7.
I hope you find it helpful. Please send me your thoughts and comments via Twitter or on our Facebook page.
To misunderstand the nature and threat of evil is to risk being blindsided by it.
Washington was blindsided by the Imperial Japanese on December 7, 1941. Our leaders were clueless about the intentions and capabilities of the Japanese military until they hit us at Pearl Harbor.
Washington was blindsided again on September 11, 2001. Our leaders simply couldn't imagine that anyone would hijack jet planes, turn them into ballistic missiles, and fly them into buildings.
In 2014, President Barack Obama and then-Vice President Joe Biden were blindsided by the explosive rise of the Islamic State. Obama and Biden pulled all US forces out of Iraq in 2011, creating the very vacuum into which ISIS surged. The group's genocidal rampage across Iraq and Syria was horrific.
This week, Biden – now Commander in Chief – was blindsided again. Having fundamentally misunderstood the nature and threat of the evil posed by the Taliban and ISIS in Afghanistan, Biden is pulling all US forces out of Afghanistan.
Once again, Biden is creating a vacuum into which radical Islamist jihadists are surging. And Americans are paying with their lives.
If Biden doesn't understand the threat posed by the Taliban, much less know how to protect Americans and our allies from them, how is he going to protect us from the terror masters in Tehran feverishly pursuing nuclear weapons?
It's time for Biden to stop pretending he is an expert on the Middle East. He should turn to America's most experienced and powerful Arab Muslim allies for a deep dive on who our radical Islamist enemies really are, and how best to neutralize them.
In my forthcoming new book, ENEMIES AND ALLIES: An Unforgettable Journey Inside The Fast-Moving & Immensely Turbulent Modern Middle East, I take readers inside the palaces of one Arab country after another and recount my face-to-face meetings with the most consequential kings, crown princes, presidents and prime ministers in the Muslim world.
Take Jordan's King Abdullah II, the longest serving monarch in the region. I first met him in 2016 when he read a political-thriller I had written about ISIS trying to assassinate him and blow up his palace. Rather than banning me from his kingdom forever, he invited my wife and me to visit him in Amman.
As I describe in the book, the king – a direct descendant of the Prophet Muhammad – didn't shy away from describing the battle against radical Islamists as "a third world war."
"This is a Muslim problem," he told me, just as he has said in public interviews. "We need to take ownership of this. We need to stand up and say what is right and what is wrong."
When I was invited by Egyptian President Abdel Fattah el-Sisi, a devout Muslim, to bring a delegation of Evangelical leaders to Cairo in November 2017, we spent nearly three hours with him. And Sisi was nothing if not candid about the Muslim world's winner-take-all battle with the radicals in their midst.
"Terrorism is our greatest enemy," Sisi told us. "We are engaged in efforts to defeat ISIS in Syria and Iraq. We are engaged in fighting terrorists here in Egypt. The mission is still long and has not been accomplished yet."
The threat of Iran gaining nuclear weapons, he said, worries him the most.
He expressed confidence that Egypt and the free world would prevail, but only if the Arab world – and Israel – formed the closest of political, economic and military alliances, led by the U.S.
In November 2018, I brought the first delegation of Christian leaders to meet with the leaders of Saudi Arabia in the kingdom's 300-year history. We spent two hours – on the record – with the most controversial leader in the region: Crown Prince Mohammed bin Salman.
MBS denounced Iran's Supreme Leader Ali Khamenei as "the new Hitler."
We asked the crown prince if he viewed Khamenei as "a crazy person" or simply "a hard-liner."
"He is a little bit of both," MBS replied.
"Have you noticed that Iran is the only country not attacked by al Qaeda or ISIS?" he asked us. "Why? Because they are aiding both."
The crown prince excoriated the Joint Comprehensive Plan of Action – the Iran nuclear deal – negotiated by the Obama-Biden administration, which he called "lousy" for many reasons but especially because of the "sunset clause" that would allow the restrictions on Tehran's nuclear program to soon expire.
"This is a tough neighborhood," MBS told us. "We have a lot of enemies—Iran, the Muslim Brotherhood, Hezbollah, Hamas, al Qaeda, Daesh [ISIS], and others. The Iranians are extremists. The Muslim Brotherhood are extremists. There are many extremists, but we will not let them win."
"The extremists are trying to destroy us daily," he continued. "They want to regain the dignity of the Muslim community and restore its power and glory. But they want to do it by force, by terrorism. That is not true Islam. The Iranians are trying to export their revolution. We will not accept this. We need to live as peaceful nations, within our nations."
"We are grateful for America," MBS said. "They helped us build our country. We will stand with America against the enemies of this region. What we must do is work with America to build an alliance in this region of strong allies—an economic alliance, a security alliance—to make everyone, all the people, more prosperous and to make sure we are all safe against our enemies."
With the stakes so high, it's time Biden started listening to the leaders who understand radical Islamism best.
Joel C. Rosenberg is the editor-in-chief of ALL ISRAEL NEWS and ALL ARAB NEWS and the President and CEO of Near East Media. A New York Times best-selling author, Middle East analyst, and Evangelical leader, he lives in Jerusalem with his wife and sons.
A message from All Israel News
Help us educate Christians on a daily basis about what is happening in Israel & the Middle East and why it matters.
For as little as $5, you can support ALL ISRAEL NEWS, a non-profit media organization that is supported by readers like you.
Donate to ALL ISRAEL NEWS
Current Top Stories
Comments